News

LATEST NEWS AND EVENTS FROM THE SCHOOL OF ENGINEERING
Back to 2019_04_01_noticia_TECNUNA-Design-day
Designing ideas
Tecnun celebrates "Design Day" with the support of Fomento San Sebastián

The workshop was given by the expert Joan Maymi at the Miramar Palace.
PHOTO: Communication Service
Last Saturday, several students from Degree of design Industrial Engineeringand development of Products were celebrating at the Miramar Palace on the occasion of the Tecnun Design Day. The event, organized in the framework of the subject of Taller de design I and II was funded by Fomento San Sebastián.
Industrial designer Joan Maymi, an expert in Integrated Product Design from the University of Delft, proposed a challenge to the participating students: they had to capture the technical and visual characteristics of a skateboard on a poster. Joan Maymi, who specializes in linking the research of Username and design, developing tangible ideas at the front end of the innovation process, guided the young people throughout.
He explained the process and the method they had to follow. Above all, they had to be original and take into account the needs of their audience goal, because after defining their idea and developing their idea, they had to present it to the jury present: the School's professors, Paz Morer and Mabel Rodriguez, and associate professors Ignacio Solá and Carlos Alonso, who work at Duo Studio and Loop, respectively.
Divided into three groups, the students José Antonio Zelada, Arturo Moya, Javier Bereciartua, Inés Llarena, Javier Martínez Goñi, Marina Ezkurra. José Pou, Pablo Oliva, Mariona Bosch and Leyre Zaragueta worked from 10 am to 5.30 pm.
The first group to present their project was Ekotomb. "We focused on the safety of pedestrians and Username when defining the characteristics of our scooter," they began. The students explained the new features of their product, such as the incorporation of a space where the Username could place the cell phone, charge the battery and receive information about the route: available parking spaces, speed reached, traffic in the area... The skateboard would also have lights "incorporated across its width, so that pedestrians could recognize it at night and avoid accidents.
For its part, the Forest group had contemplated the design of a bracelet, which, connected through a mobile application, would provide the Username with information about the route, remaining battery, etc. They also presented some novelty that was mostly well appreciated by the jury, such as the ease of access to the skateboard legislation, "so unknown to customers".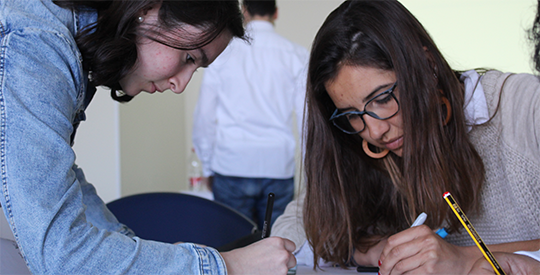 The students of the I Long team were the last to present and explained that, in their application, in addition to other new features, there would be a social network section where users could share their experiences and opinions.