News

LATEST NEWS AND EVENTS FROM THE SCHOOL OF ENGINEERING
Back to 2021_10_01_delegados-alumnos
Isabel Bistué and Juan Víctor Villegas, new delegate and subdelegate of the university
They have been elected by the 30 representatives of the different faculties and schools.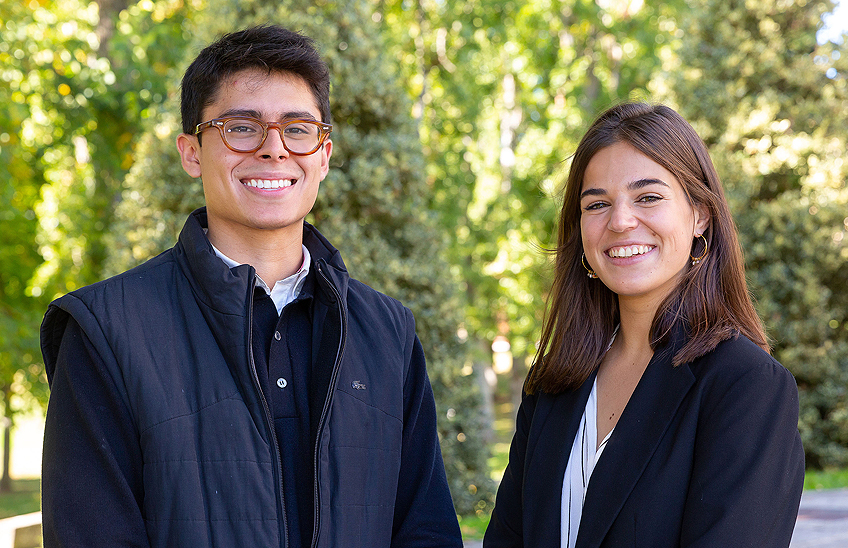 Isabel Bistué and Juan Víctor Villegas have been elected respectively delegate and subdelegate of the University of Navarra for the academic year 2021/22. Representatives of the 15 faculties and schools of the academic centre took part in the vote.
Isabel Bistué is a fifth year student of International Office and Law, and comes from San Sebastian. She is an intern at International Private Law. She also combines her studies with various activities, such as learning Chinese, participating in the organization of congress Lead Cretive or being part of the University's women's 11-a-side soccer team. She has decided to run for delegate to be at the service of her colleagues and to be a channel to give feedback to the University: "I am always available to listen and help", she reminded the other delegates after the vote.
Juan Víctor Villegas is from Santa Cruz, Bolivia, and is studying 4th year of Industrial Organization Engineering in Tecnun. He has been student partner researching purpose in companies and is also interested in stock market analysis. In his free time he enjoys boxing and music production. He would like to "refund the University everything that makes it different, bring back the events and student life". In addition, he would also like to take advantage of the opportunity to bring the two campus of San Sebastian and Pamplona closer together.
Delegates from faculties and schools
Architecture
Delegate: Elena Vela Lizarbe
Subdelegate: Irene Biera Muriel
Science
Delegate: Javier Rodríguez Castelló
Sub-delegate: Verónica Arias López
Communication
Delegate: Ana Sofía Alas García
Deputy Delegate: Júlia Franch Benavides
Law
Delegate: Isabel Bistué Alzola
Sub-delegate: Jesús Rizo Ortíz
Canon Law
Delegate: Jorge Castro Maestre
Subdelegate: Regis Otabela Ntomo
Economic
Delegate: Alejandro Noboa Kronfle
Sub-delegate: Bibiano López López
Education and Psychology
Delegate: Akemi Watanabe Morales
Deputy Delegate: Marta Sánchez de Muniain Del Villar
Nursing
Delegate: Alexánder Purnell Marqués
Deputy Delegate: Victoria López-Bleda de Castro
Pharmacy and Nutrition
Delegate: Alicia Fernández Domper
Deputy Delegate: Gloriana Cerdas Bulgarelli
Philosophy and Letters
Delegate: Izaro Díaz Manso
Subdelegate: Dolores García Jiménez
Engineering (Tecnun)
Delegate: Juan Victor Villegas Villaroel
Sub-delegate: Fermín Catalán Oroz
ISSA
Delegate: María Victoria Pistilli Segovia
Subdelegate: Angela Jódar Ruiz
Medicine
Delegate: Ainhoa Murillo Lanuza
Subdelegate: Telmo Bretos Azcona
Theology
Delegate: Erick Fernando Alvarado
Subdelegate: Pedro Antonio Martínez Mena