News

LATEST NEWS AND EVENTS FROM THE SCHOOL OF ENGINEERING
Back to 2020_09_02_TECNUN_El-ejemplo-tambien-se-contagia
Example is also contagious
Raúl Antón, director de Tecnun-School of Engineering of the University of Navarra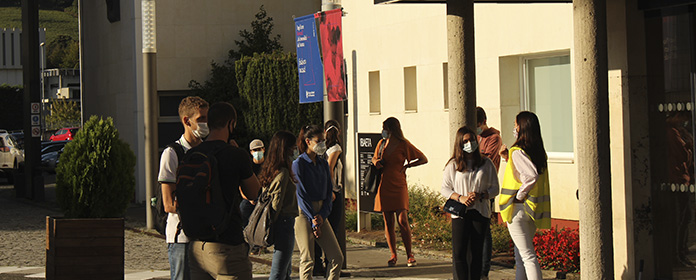 Students at entrance de Tecnun
PHOTO: Courtesy
We are starting a new academic year with more enthusiasm than usual. The challenge that is presented to us is great: more than 1,200 students start the course in Tecnun trusting in our project educational and in this case, also in the plan that we have been working for months to face the COVID-19. 
The virus turned our daily work upside down in March, but I look back and I am proud to see how we gradually put things in order. First and foremost, we thought about the health of the university community, the training we wanted to continue to give our students and the information they and their families needed to have. We had to combine speed with prudence, always bearing in mind where we wanted to go and what was a priority. 
The scenario now repeats itself in that sense. We are still clear about what we want to offer and how we want to do it. We have worked so that the beginning of the course can take place in a safe campus ; PCR tests to all students and staff of Tecnun at the beginning of the course, random PCR during the course development to control the virus, capacity restrictions and various security measures. We started the course with the commitment to be present, being aware that the horizon can be altered by external factors that do not depend on us. We learned this well in March. 
But I would like to launch three messages that I consider vital in the face of a challenge that we are facing from the educational sector. The first is one of calm, because fear only hinders, as well as being easily contagious. There are many people working with a clear horizon, considering all possible scenarios and thinking about how we will proceed in each of them. 
The second is one of responsibility. We have to go to one and think about the ripple effect of our actions. How we behave individually counts, even though it is a team effort and it is vital that we row in the same direction, we cannot neglect the rules, what each of us is asked to do. 
The third, and perhaps I would dare to say the most important, is exemplarity. Fortunately, example is also contagious. Earlier I said that we started the school year with more enthusiasm than usual. It may seem paradoxical in a context of added uncertainty. But we have a double illusion as teachers: to continue training excellent engineers, academically, but especially in the field staff. We have the responsibility to repay the trust they have placed in us with the example that I know will be set by so many professionals with whom I share a hallway.
I also think it is necessary for teachers, from any center educational or university, to distance ourselves from the somewhat demonized image of youth, who are often put in the spotlight, as if the lack of years went hand in hand with a lack of responsibility. There is and there will be everything, because society is as diverse as its public, but it is not young people who are the cause of anything, but rather, our most precious investment, because they are the ones who will weave the future. A future that is full of uncertainties.  
We received messages of concern from our students, but also of hope, gratitude and desire to return to the classroom, to resume their studies and their routine. We are aware that many of them were not able to say goodbye as they would have liked after four or five years of effort and passing grades, and of the effort they made to follow distance learning classes. That is why they deserve our trust more than ever, because they are the first ones who want to end this status and design the future they dreamed of when they decided to study, in our case, Engineering. 
I would especially encourage the first year students, from any university or college, not to stop doing it and to always maintain their enthusiasm for training and achieving excellence. It's going to be a different year, but we're all going to continue to learn a lot. We will learn to listen, to be responsible thinking about the welfare of others, to be generous with colleagues who will not be able to come to class and will need support, often moral support for sure. We will learn to fight the intermittent fear that will come to all of us at times. To be an example and to smile with our eyes. Also to be patient, to build new ways of relating and showing ourselves to others. And I know that we will also learn to reinvent ourselves to satiate the most solidary vein that many of you young people show every year, thinking of initiatives that can improve the lives of others. Challenges always put to test our capacity to give of ourselves and I am convinced that the university students will be up to the challenge.