News

LATEST NEWS AND EVENTS FROM THE SCHOOL OF ENGINEERING
Mathematics that improves aiming against liver cancer
Engineers at Tecnun apply fluid mechanics to the field of medicine to improve cancer treatment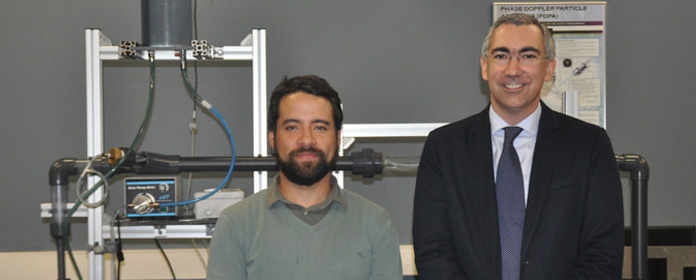 The doctoral student Julio Ortega and the director of Tecnun, Raúl Antón, two of the researchers of the project.
PHOTO: Communication Service
Liver cancer is the second leading cause of death from cancer in the world. "There are liver tumors that cannot be operated on," explains Jorge Aramburu, a Zarauztarian and engineer in the Department of Mechanical Engineering and Materials of Tecnun, who, together with the director of the School of Engineers, Raúl Antón, and doctoral student Julio Ortega, is researching how to improve the treatment of liver cancer by optimizing the radioembolization technique.
"This novel treatment, applicable in both early and advanced stages of the disease, is safe and effective, and an alternative for tumors that cannot be operated on or subjected to other more aggressive techniques," stresses Aramburu.
Radioembolization consists of introducing radioactive microspheres into the bloodstream by means of a catheter placed in the hepatic artery. Thus, "the tumor is irradiated from the inside," continues the expert from the Engineering School of the University of Navarra in Donostia.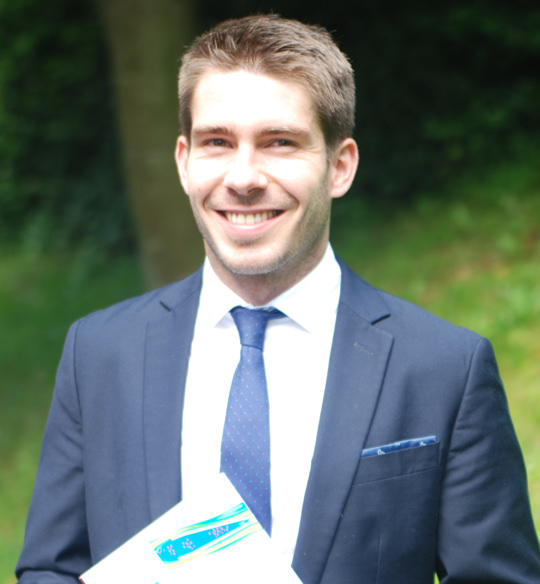 The blood circulating in the hepatic artery is the main source of nourishment for liver cancer cells," he notes. Raul AntonThe microspheres, as the engineers explain, block the smallest hepatic arteries that feed the tumor and help eliminate the cancer cells. Thanks to the microspheres, as the engineers explain, the smallest hepatic arteries that feed the tumor are blocked and the cancerous cells are helped to be eliminated. "The healthy liver cells are hardly affected, since they are mainly supplied by blood from the portal vein," he explains. Anton.
The engineers of the Department of Mechanical and Materials Engineering analyze radioembolization from the point of view of fluid mechanics. They study, for example, how the variation of some treatment parameters - such as the position of the catheter or the injection speed of the microspheres - influences the radiation of each patient's tumor. This makes it possible to determine which parameters are the most influential in terms of efficacy and safety, and also to carry out a virtual pretreatment to determine the path that the microspheres would follow in each specific case. 
Through numerical simulations, the experts observe "the dynamics of the microspheres in the bloodstream, how the microspheres interact with the blood and where they end up, in order to successfully offer the radioembolization treatment in a personalized manner," says PhD student Julio Ortega.
Tecnun collaborates in this way with the Radiology Service of the Clínica Universidad de Navarra (CUN), a European reference center in the administration of this treatment, with more than 300 treatments performed. "Ultimately, it consists of applying fluid mechanics to medicine. Put in a very summarized and simplified way, it is as if you were studying the flow of water in a pipe with sand in it," concludes Aramburu.