News

LATEST NEWS AND EVENTS FROM THE SCHOOL OF ENGINEERING
Back to 2018_07_04_ING_congreso_materiales_mzt
The congress of Materials MZT awarded the trajectory of the scientist Antxon Santamaría
The Councilor of Education, Cristina Uriarte, made him submission of the award Gabirel Jauregi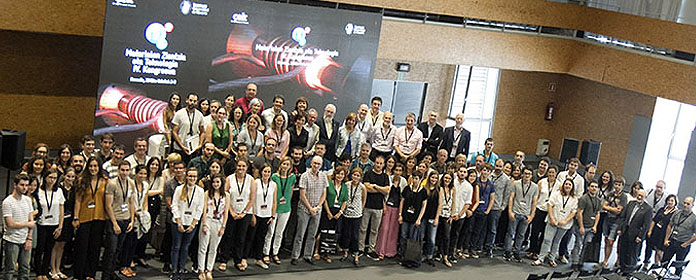 Speakers and attendees pose after the awards ceremony at submission sports center de Tecnun
PHOTO: Communication Service
The congress of Materials Science and Technology, organized by Ceit-IK4 and Tecnun, concluded with the submission to the scientist Antxon Santamaría of the award Gabirel Jauregi in recognition of his research work in the field of materials, as well as the work carried out in Basque in this field.
Santamaría is Full Professor of Applied Physics at the UPV as well as researcher and professor at the Polymat Institute. The congress brought together, on July 2 and 3, more than a hundred experts in materials science -from universities, companies and technology centers- who discussed and reflected on innovations, applications and technologies that are making it possible to improve the quality, performance and cost of materials in sectors such as shipbuilding, steel, railways, automobiles and energy.
Prior to the submission of the award to Antxon Santamaría, by the Councilor Cristina Uriarte, the companies Ampo, Vicinay, Petronor and Mondragon componentes discussed, together with the Spri, the problems they have to face when improving their respective products through materials that better meet the needs of their customers.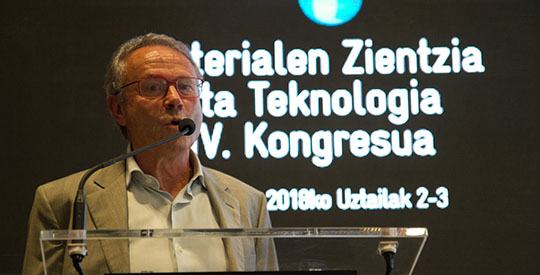 ---------------------------------------------------------------------------------------------
Materialen Zientzia eta Teknologia kongresuak Antxon Santamaria zientzilariaren ibilbidea saritu du 
Hezkuntza Sailburuak eman dio Gabirel Jauregi Saria
Ceit-IK4 eta Tecnun-ek antolatutako MZT Kongresua uztailaren 2 eta 3an egin da Donostian. Amaiera, Antxon Santamaria zientzilariariari saria emanez egin da. Cristina Uriarte Hezkuntza eta Unibertsitate sailburuaren eskutik jaso du Gabirel Jauregi saria, materialen alorrean ta euskararen alde egindako lanen errekonozimentu gisa.
Santamaria Fisika aplikatuan katedraduna eta Polymat Institutoko ikerlari eta irakaslea da EHUn. MZT Kongresuak material alorreko ehun aditutik gora bildu ditu, unibertsitate, empresa ta centro teknologikoetatik etorritakoak. Guztien artean ausnartu eta eztabaidatu dute nola hobetu sektore desberdinetan erabiltzen diren materialen kalitate, prestakuntza eta kostua. Untzigintza, siderurgia, trengintza automobilgintza edo enmergia sektoreetako adituak Bildu ditu MZT Kongresuak.
Antxon Santamariak, Uriarte sailburuaren eskutatik saria jaso aurretik, Ampo, Vicinay, Petronor eta Mondragon componentes enpresek, Spri-rekin batera, eztabaidatu dituzte euren produktoak hobetzeko orduan materialen alorrean aurkitzen dituzten zailtasunak bezeroen beharrei ahalik eta hobekin erantzun ahal izateko.