News

LATEST NEWS AND EVENTS FROM THE SCHOOL OF ENGINEERING
"Thanks to the Alumni Scholarship, I have been able to enjoy all that the University has to offer."
53 students of the Alumni Scholarship Program, eight of them from Tecnun, celebrated their graduation in a ceremony presided by the Vice Rector for Alumni, Tomás Gómez-Acebo.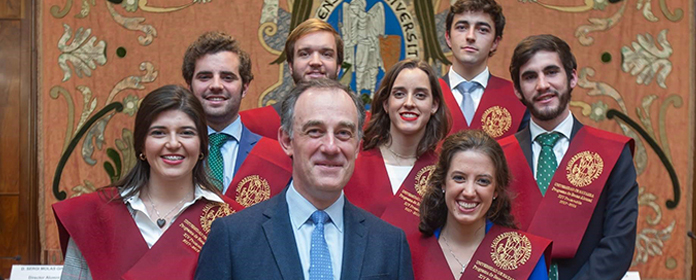 The Vice Rector for Alumni, Tomás Gómez-Acebo, with the graduates.
PHOTO: Courtesy
53 students of the Alumni Scholarship Programwho are completing their studies this year, celebrated their graduation at a ceremony presided over by the Vice Rector for Alumni, Tomás Gómez-Acebo. A total of 330 young people from 20 countries are studying this year thanks to this program, aimed at students with a good academic record and without sufficient financial resources to pay for a university degree. Eight of these young people are studying at Tecnun, School of Engineering of the University of Navarra.
"I came to learn about the school and asked about financing methods. Since I had good grades in high school, they offered me the program and thanks to that I was able to study here," explains María Encarnación Pluma, a 4th year Industrial Organization Engineering student. The student from Cadiz remembers the first two years as a period of "some fear and pressure to maintain the average grade, but then you don't even remember". 
Alejandro López de Carrizosa, also from Cádiz, identifies with his testimony, because if he had not been accepted, he would have gone to study in Madrid or Seville. "Thanks to that pressure and, at the same time, to the incentive of maintaining a good average, you get better organized," says this student of Industrial Technologies Engineering. 
"I am very grateful that they have taken away my worries about money and that has allowed me to enjoy everything the University has to offer, from my studies to the activities I am involved in," confesses Gonzalo Jabat from Pamplona, who combines his studies with the Choir, the rowing team at Tecnun, and his work as secretary of the social committee of the Colegio Mayor Ayete. "Working at Ayete is almost like getting a second degree because of all the things we learn," smiles José Serrano, from Jaén, known by his advisor as 'the thousandth': "In first year I got 7.01, in second year 7.02 and in third year 7.1. I already felt more comfortable," he laughs, explaining that, in his case, he had to pass 7 to stay in the program. 
"I would make myself an Excel table to see what grades I had to get in my subjects and how I had to organize myself. But I realized that the more time you have to do things, the more you waste. So I said, I'm getting into everything." And so it was: he has been a member of the theater group Chismarracos for three years, he also directed the Youth Solidarity Concert organized by the Colegio Mayor Ayete last year and was a delegate in 1st and 2nd years. 
XVI promotion of the Alumni Scholarship Program
The budget of the program, which has been running for 15 years, is 2.4 million euros for this academic year, with an average amount of 7,505 euros per scholarship. The initiative is financed thanks to the contributions of more than 9,000 alumni, companies and institutions, including Banco Santander, through Santander Universities; Caja Rural de Navarra, IEISA Foundation, the Association of Friends of the University of Navarra, Banco Pichincha, Bolar Foundation and ONCE Foundation.