News

LATEST NEWS AND EVENTS FROM THE SCHOOL OF ENGINEERING
Back to 2023_04_05_ECO_firma_catedra_iss
The University creates the Chair de Empresa ISS to promote research on the development of organizations with purpose
Promoted by the School of Economics, the School of Engineering-Tecnun and ISS, among its objectives is the dissemination of purpose as a lever for sustainability.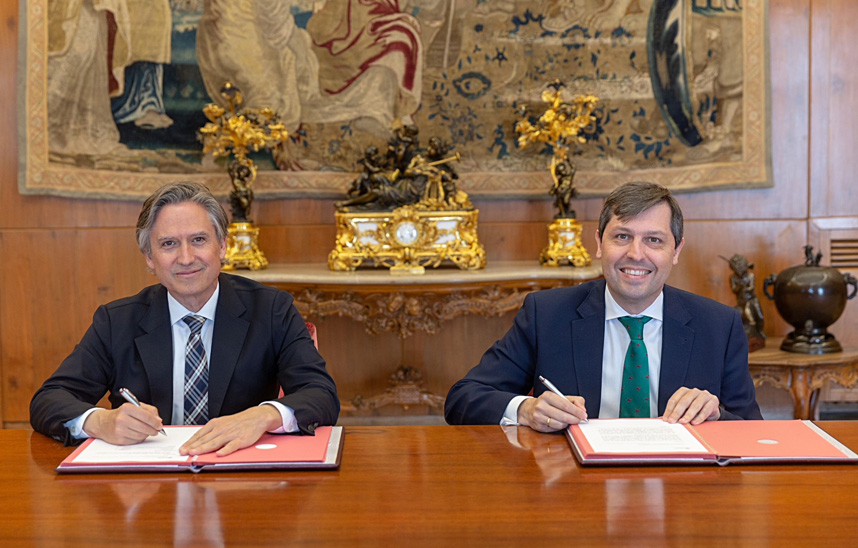 The University of Navarra, together with the company ISS, has launched the Chair de Empresa ISS, focused on research on the development of organizations with purpose. Promoted by the School of Economics and the School of Engineering-Tecnun, its objectives are the dissemination of purpose as a lever for sustainability, as well as teaching collaborations in Degree and postgraduate courses.
The signature of the new agreement "crystallizes more than five years of collaboration between these institutions", as highlighted by the director of the Chair, Álvaro Lleó. "The Chair has three main objectives: teaching collaborations for students to learn about the experiences of companies with people-centered organizational models; research through doctoral theses on corporate purpose as a lever to enhance business sustainability; and the organization of professional events on the development of sustainable organizations," he described.
In the words of Javier Urbiola, executive president of ISS, "this alliance materializes the commitment that we at ISS have for research and the development of the corporate purpose , as a fundamental element to favor the construction of a more sustainable future". In a similar vein, Urbiola pointed out that "after more than five years of collaboration with the University of Navarra, we see this project materializing, which will undoubtedly result in greater competitiveness and business sustainability".
Marta Ormazabal, co-director of the Chair and deputy director of Research at the School of Engineering-Tecnun, pointed out that in recent years, "the School has maintained a close relationship with ISS. As a result of this relationship, a research project has been developed. ISS has given several sessions to our students and graduates from Tecnun have been joining this company". Ormazabal has highlighted this collaboration as "beneficial" for both parties, and emphasized: "the Chair will allow us to formalize this relationship, mainly promoting research, focusing on sustainability and corporate purpose ".
At core topic sustainable
The impulse of purpose in the business environment presents great advantages in the adherence to sustainable values. The fact is that a company's purpose not only boosts the resilience of companies in framework in a world that is increasingly concerned about available resources, but has also proven to be useful in increasing individual commitment and the collective unity of employees around sustainability, to the extent that these transcendent values prevail in the organization's day-to-day operations.