News

LATEST NEWS AND EVENTS FROM THE SCHOOL OF ENGINEERING
Back to 2020_03_06_noticia_tecnun-ORONA
Tecnun and Orona sign an agreement partnership agreement the goal is to collaborate with the training of student body of the School of Engineers.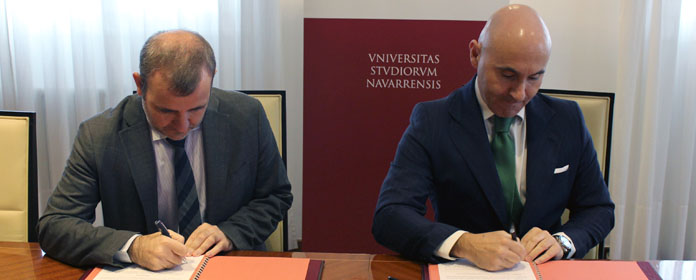 PHOTO: Communication Service
Tecnun and Orona have signed today a collaboration agreement agreement for the training of students through internships in the company, as well as final projects of Degree and master's degree. Although both institutions actively collaborate in research projects, talent attraction and doctoral programs, it has been now when the collaborative framework has been formalized. In the last 3 years, 62 people trained at Tecnun have joined Orona, half of them in TFG and TFM programs and the rest in internships.
The alliance, sealed by Orona's External and Institutional Presence Director , Peio Garciandia, and Iñigo Gutiérrez, Director of development of Tecnun, is part of the University-Company program promoted by the technological campus of the University of Navarra in San Sebastian.
Another point of the agreement contemplates the participation of Orona professionals in the training of student body of Tecnun, through seminars in subjects, or by hosting student visits to its facilities.
"In Orona we are committed to promote the development of society from a firm vocation of service. We are very close to the University, collaborating with the training of future engineers, which will undoubtedly have an impact on the economic development partner of our environment", emphasizes Orona's General Manager, Javier Mutuberria, director .
For his part, the School's External Relations director , Javier Ganuzaassures that " Tecnun values very positively the signature of this agreement, as it means formalizing a reality of collaboration and promoting new lines of collaboration between Orona and Tecnun, for the benefit of both institutions, especially the student body. 
Orona is one of Europe's leading vertical lift companies, with a turnover of 741 million and more than 5,300 people in its team. submission value to its customers through the entire platform of products and services, including elevators, escalators and ramps. Orona is present with a comprehensive business model in 11 European countries and distributes its equipment in more than 100 markets. It currently has 250,000 elevators installed in Europe and its production plants are leaders in production capacity of complete elevators in the continent.