News

LATEST NEWS AND EVENTS FROM THE SCHOOL OF ENGINEERING
A hundred of alumni celebrate the tenth anniversary of the Degrees de Tecnun
Eleven speakers in three simultaneous round tables at the event organized by Alumni Tecnun on Friday, June 2.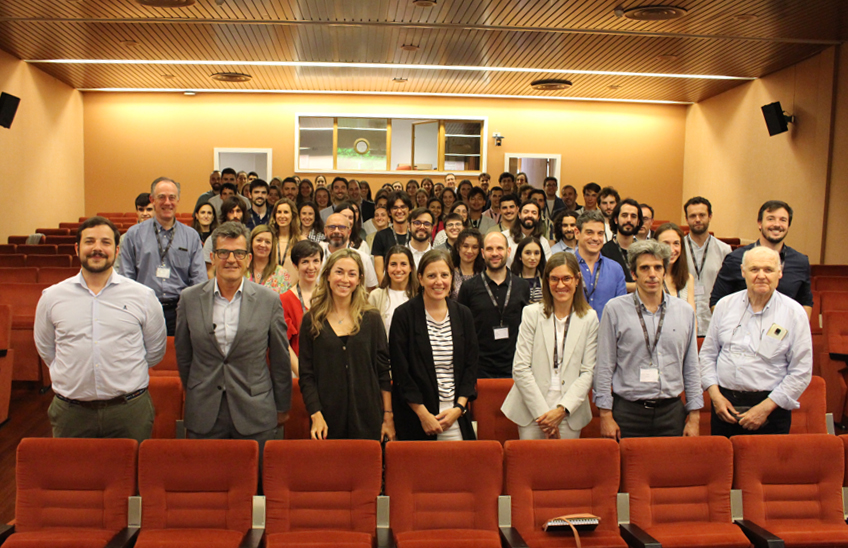 Last Friday, June 2, Tecnun celebrated the tenth anniversary of the Degrees with a hundred alumni, students and professors. The head of Alumni at Tecnun, Soledad Abad, started the workshop at auditorium thanking the presence of "so many familiar faces". She explained that the important thing about Alumni is to answer the question of what it is and who makes it up: "Alumni are all of you who have studied here and I want you to know that this will always be your home," he said. He also highlighted the high percentage of alumni professors at the School and how important their support is, with almost 10,000 alumni from Tecnun "spread all over the world". In addition, Abad took the opportunity to remind them that one way to follow contact is the Linkedin group of Tecnun, in which job offers and events of interest are posted. 
For his part, the director of development, Iñigo Gutiérrez, spoke of some of the projects in which the School is immersed, such as the launching of the City Science Lab or the creation of the Gene Haas Center. However, he added: "The essence, the heart of Tecnun, has not changed no matter how many years have passed". 
Three round tables and about a hundred attendees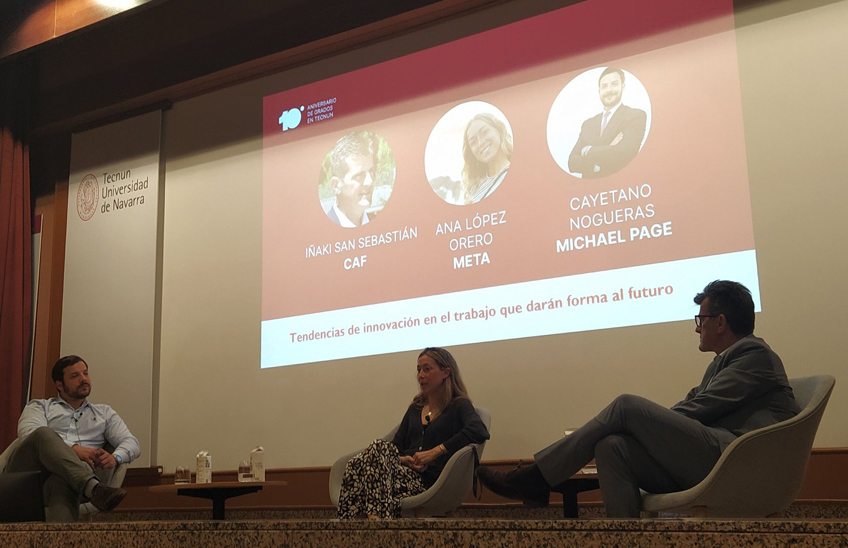 The event simultaneously hosted three round tables. One, open to all Degrees and the other two focused on the Degree of Engineering in design Industrial and development of Products e Biomedical Engineering.
Xabier Unamuno(@ViralgenVC), Idoia Besada(@ULMA_Med_Tech) AND Marcos Llorente(@unav) explain how the biotech revolution "is opening the way for us" #AlumniTecnun #SomosTecnun #unav pic.twitter.com/l6PVo6vPsv

- Tecnun (@tecnun) June 2, 2023
Adrián Larripa(@bigD_Design), Iñaki Remiro (Lucid),Olaia Irulegi(@diaradesign) and Miguel Zorraquino(@zorraquino) share their work to the alumni of Engineering in design Industrial of #Tecnun. Thanks for coming home #SomosTecnun #unav @unav pic.twitter.com/LMCAdpPRVG

- Tecnun (@tecnun) June 2, 2023
The colloquium open to all Degrees, graduate "Trends in Technological Innovation: the future of work", was led by alumni IñakiSan Sebastián, Director of Innovation Programs at CAF and Ana López Orero, Product Growth Analyst at goal. Cayetano Nogueras, Senior Associate Manager - Industry & Energy at Michael Page, moderated the colloquium and provided some data on trends in the labor market. The alumni agreed that technology is advancing at a pace that requires constant update and discussed the metaverse and some of the challenges of urban mobility.  

The metaverse, explained López Orero, is a network of virtual worlds in which people connect, do business and forge relationships: "If in the physical world we express ourselves in three dimensions, it is logical to think that the next technological advance will reflect the way we relate to each other," said the former student. For the engineer, one of the main advantages of the metaverse is that it will improve communication and enable teamwork in an immersive way.

For his part, Iñaki San Sebastián wanted to reflect on the need for "emission-free" transport, based on "batteries and hydrogen". He spoke of the train as the transport "par excellence" and that it has been electric for "many, many years". He also said that "half of the buses in Europe providing hydrogen services are from CAF". His discussion paper concluded by highlighting the importance of looking for a purpose at work, beyond choosing "only" a company for being at the "technological forefront". "I appreciate that people look for a purpose in what they do, that they see, for example, how they can contribute sustainable solutions and with social impact in their work."

Cayetano Nogueras, Senior Associate Manager - Industry & Energy at Michael Page, emphasized the change that has occurred in recent years in the proposal life that professionals have and in their priorities when looking for a job. "Social benefits such as flexible remuneration, flexible working hours, teleworking and having medical insurance or a company car, among others, are valued," said Nogueras.