News

LATEST NEWS AND EVENTS FROM THE SCHOOL OF ENGINEERING
Back to 2018_05_07_ING_concurso_ingenio_y_diseño
The Ingenuity contest and design awarded prizes to school children from high school diploma for the originality of their initiatives
The 14th edition of the Ingenuity Contest and design had the support of sponsorship of IKOR, Indaux, Gaztenpresa and IK4.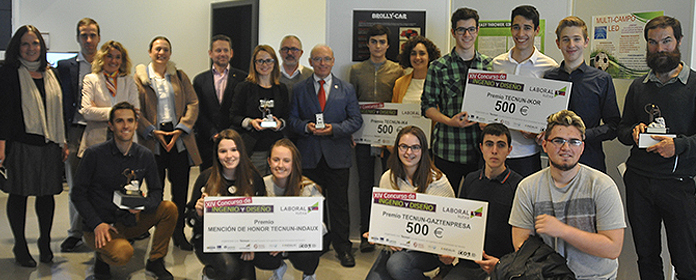 The winning students of the contest show off their respective prizes.
PHOTO: Communication Service
Students from high school diploma from Vitoria, Navarra and Burgos have been the winners of the Contest of Ingenuity and design organized by Tecnun, School of Engineering of the University of Navarra last Friday, May 4. sponsorship The initiative, which seeks to encourage the imagination of young people through the application of innovative ideas, had in its 14th edition the support of the companies IKOR, Indaux, Gaztenpresa and IK4. 
Javier García Alonso, director of Indaux, and the company's corporate director of human resources, Generosa Cerviño, participated in the workshop . Also in attendance were Aitor Larruskain, General Manager of IKOR and the head of communications, Marisa Cedenilla. IK4's Market and Results Exploitation director , Juan Otegi, and Arantza Olaizola, Head of Social Action, Event and sponsorship of Gaztenpresa, also attended the quotation.
The students Asier Ortega Arbosa, Jon Tolosa Alonso and Markel Berganzo Besga, from the Marianistas school in Vitoria, were awarded for their project "Multi Campo Led": "In many sports facilities, to save time and space, several sports fields are made in the same place, and the players have problems to see which line corresponds to the field of the sport they are practicing," explained Jon Tolosa, one of the student promoters. "We propose to install LED lights, replacing the lines, and through a remote control system they can be illuminated or deactivated, according to the need of each sport," continued student Asier Ortega.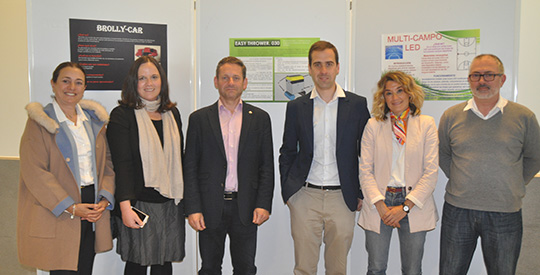 Jorge Martínez Francés, Alba Ortiz Astiz and Marcos García Cillero, from the Nuestra Señora del Puy School in Estella, surprised the jury with their project "Bathtub-shower", and especially for the originality with which they sold their idea. The main goal of this project is to facilitate access to elderly or disabled people by means of a folding wall: "It has a double use. If you want to use it as a shower, you can lower the wall, which acts as a ramp to facilitate access," said student Alba Ortiz. They were accompanied by friends such as Marivi Marin, Sara Ibáñez, Javier Borrueta, Jesús Lezaún, David Echeverria, Andrés Izu, Álvaro Fernández, Javier Garbayo, Kevin Quinatua and Javier Arguiñáriz.
For its part, the Colegio Sagrados Corazones school in Miranda de Ebro, was awarded for two projects promoted by its student body. One of them has been baptized by the young promoters, María Fernández Calvente and Sara Fernández Riaño, as "Brolly Car", and consists of incorporating in the doors of the cars a layer of folding and waterproof wool that prevents passengers from getting wet on rainy days when they get out of the vehicle. 
Another of the winning initiatives, developed by school students Fernando González González and Jimena Martínez Montejo, is called "Easy Thrower Trash Container". This container is intended to provide greater safety and hygiene, as well as to facilitate complicated and everyday situations when it comes to taking out the garbage," said Fernando González. 
attendance It is worth mentioning that the director of this program, Elena Azurmendi, and other professors and staff of the university center such as Ainara Díez, Mikel Arcelus, Daniel Bartolomé, Javier Ganuza or Aitor Cazón, as well as student Luis Alarcón, who showed the facilities of campus and the electric single-seater of Tecnun Formula Student to the winning students, attended the event.