News

LATEST NEWS AND EVENTS FROM THE SCHOOL OF ENGINEERING
"Since I started in Formula Student at Tecnun I knew I wanted to focus my career on the automotive sector".
Alumni Mikel Martinez works for Ferrari in Italy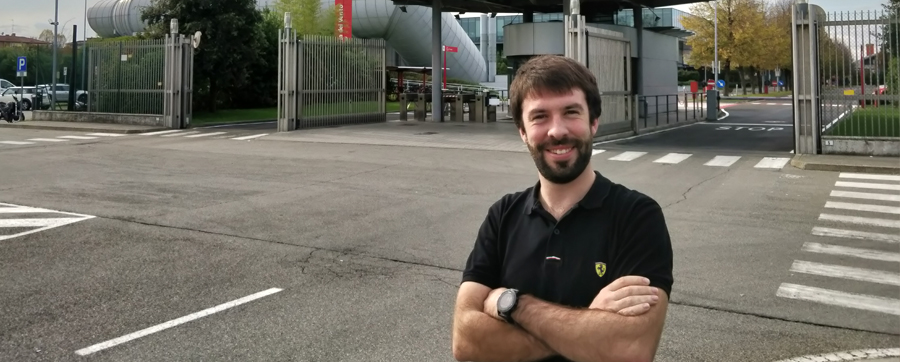 PHOTO: Communication Service
Mikel Martínez is anElectrical and Industrial Engineer. As he himself points out, he entered Tecnun to study for a degree in Design, "but my poor freehand drawing skills and a chat with Joaquin de No convinced me to change sides and switch to the degree in Electrical Engineering", he recalls with a laugh. "At the end of the electrical degree, I took the bridging course to obtain the degree in Industrial Technology Engineering and then I took the Master's degree in Industrial Engineering". Mikel currently works for none other than Ferrari.
How did the option of working at Ferrari come about?
I did my Master's project at GKN Driveline in Zumaia in the electrical machines and ePowertrains testing department. After finishing the project and following the same line of work, I packed my bags and went to Tarragona, more specifically to the company IDIADA. It is a company dedicated to the testing of vehicles and components with spectacular facilities. Almost all car manufacturers carry out tests there, including Ferrari.
After a year and a half of working, I was in charge of a test for Ferrari that had quite tight deadlines and we were able to carry it out with satisfactory results. Shortly after finishing the test, my manager called me to tell me that they wanted me to come to Maranello for an interview, and I didn't have to think about it too much.
How did you manage to stay and work there? Was that your dream?
I asked for a day off, took a plane and went to Maranello for the interview. I was quite nervous, but I knew that once I was there I had to go for it, I relaxed and tried to transmit everything I had learnt in the last few years. In the end everything went well and I got the job.
My goal was to work for an OEM before I turned 30, but I don't think I ever thought it would be Ferrari, simply because I saw it as something unattainable and because my experience was more focused on electric mobility systems. When I was at IDIADA they told me I had to prepare a test for them, I thought it would be nice to work at Ferrari, but I have always had my feet on the ground and I didn't allow myself to dream too much about that possibility.
What is your day-to-day life like at Ferrari?
To understand it a bit better, Ferrari is divided in two big blocks Gestion Sportiva (F1) and Gran Turismo ('Commercial' section), I am in the second block, being part of the testing and prototypes team of the Hybrid section.
Every day at Ferrari is different, my group is growing steadily as the company is moving towards hybrid vehicles to meet European emission targets. We spend our days testing the different components of the Hybrid part, batteries, inverters, electric motors, DC/DCs, OBCs... My main roles are the management of the test benches and the supervision of the correct testing and assembly of prototypes. I also participate in the definition of the validation plans for the different components.
What would you say to students when they dream of working in such a company, but don't know how to get there?
From my point of view, the most difficult thing is to know exactly what you want to do. The answer to that question doesn't appear as soon as you finish your degree; I have university classmates who still don't know exactly what they want to do. The important thing is to enjoy the search for answers, without getting overwhelmed. As I mentioned previously, I started my degree in design and ended up doing electrical engineering.
On the other hand, if you have a clear idea, my advice would be to focus your internship, degree project, first job etc. on companies in the same sector where you can gain specific knowledge, to get to know the terms and acronyms of the industry. Once you are in the sector, it is easier to get to know the relationships between companies and the job roles behind the cryptic job descriptions. But you have to be willing to make sacrifices too. I invested many hours of my free time in the Formula Student lab, although for me it was more leisure than anything else, and I also had to go to work right after finishing university in Tarragona. It is worth mentioning that considering the amount of hours we spend at work, it is worth making an effort to work in something that you like and that motivates you.
As far as languages are concerned, it is inevitable to learn the mother tongue of the company. Finally, it is important not to forget that once you have fulfilled a dream, the next day you get up to go to work.
Why did you decide to study Engineering at Tecnun?
When I finished my baccalaureate I knew I wanted to do engineering, but the number of different degrees and modalities generated a lot of confusion. Finally, as what I really liked was designing, I chose Tecnun because it was one of the few in the Basque Country that offered a degree in Industrial Design.
What would you highlight from your time at the School?
Everyone who knows me well knows the answer I am going to give to this question. The experience of Tecnun SEED Racing, the university's Formula Student electric car project.
At the beginning of my second year I joined this activity. From then on I knew that I wanted to focus my career on the automotive sector and especially on electric mobility. Formula Student is a project that requires many hours and many sacrifices, but in the long run it has been proven that all the hours invested had a return in the form of learning and extra specific training. In fact, back then we used tools that I still use today at Ferrari, tools that are very specific to the sector.