News

LATEST NEWS AND EVENTS FROM THE SCHOOL OF ENGINEERING
Back to noticia_tecnun_20210108_tesisJulioOrtega
Julio Ortega defends his thesis at Tecnun
His work consists in the analysis of the design and performance of a new catheter for Radioembolization of the Liver.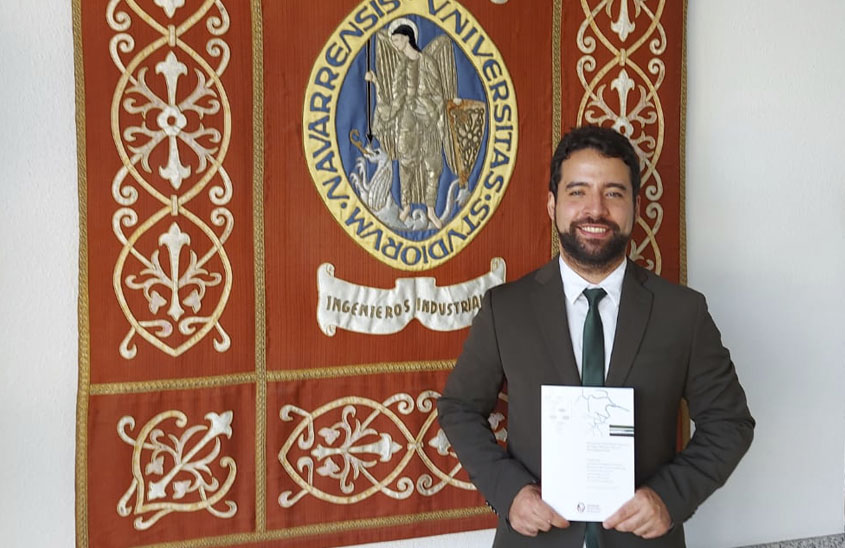 Last Tuesday, December 22, Julio Ortega defended his thesis at Tecnun. The title of the thesis in Spanish is "Analysis of the design and Performance of a new Catheter for Radioembolization of the Liver". Although the language of essay was in English, the defense was held in Spanish, before the tribunal chaired by Dr. José Ignacio Bilbao Jaureguizar, at classroom of Degrees of the Ibaeta Building.
After the thesis defense, all the members of the tribunal congratulated Julio Ortega and his thesis director , Dr. Raúl Antón Remírez and his co-director, Dr. Juan Carlos Ramos González for the research work carried out.
In this thesis, a new microcatheter design for liver radioembolization was evaluated. "By means of numerical simulation techniques and using real and idealized hepatic arteries, a new microcatheter configuration is analyzed and presented with the idea of generating an optimal particle distribution inside the liver," Ortega himself points out.
Also, three indicators are proposed to compare the new microcatheter with the standard microcatheter in various cases. Finally, a scaled hydraulic test bench has been designed and built with the goal to test the microcatheter designs in real conditions. "At summary, the results in terms of particle distribution and patterns in the numerical simulations have good agreement with the experimental results," concludes Julio Ortega.