News

LATEST NEWS AND EVENTS FROM THE SCHOOL OF ENGINEERING
"The epidemic situation may separate us temporarily, but academic research has transcended boundaries and brought us together.
Chuan Cao during the defense of his thesis at Tecnun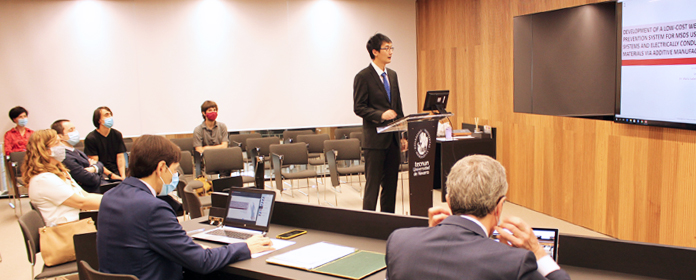 Despite the state of alarm, and respecting all security measures, Chuan Cao was able to defend his doctoral thesis on the scheduled date.
PHOTO: Communication Service
Despite the state of alarm, and respecting all security measures, Chuan Cao was able to defend his doctoral thesis on the scheduled date, last Friday, May 29. As a consequence of the impossibility of the external tribunal members to travel to San Sebastian, the defense of his doctoral thesis was carried out with part of the tribunal connected on-line live to the Aula de Grados of Tecnun where the defense took place.
"It was an extraordinary experience to finish my doctorate in such a special period," Chuan himself emphasizes. "When the epidemic was at its worst, I saw that people did not panic because of the spread of the virus and we all continued to work orderly from home," recalls the now doctoral student in engineering.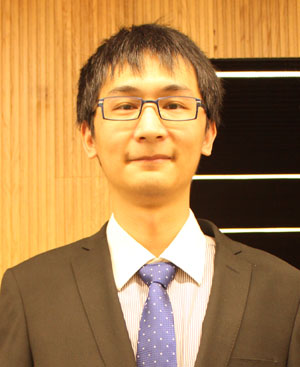 "However, in order to arrive on time on the day my thesis defense was scheduled, the staff and committee members worked in person and made a lot of preparations to make sure everything went smoothly. And I am very grateful for this," says an excited Chuan, who adds: "It is not an easy task to have video calls with members from three different regions at the same time. That's why I feel that everyone's response has been extraordinary. The epidemic situation may temporarily separate us from each other, but academic research has transcended limits and united us", concludes the engineer.
Chuan Cao came to Tecnun in 2016 with a China Scholarship Council (CSC Scholarship) from the Chinese government to develop his PhD at Tecnun. Since then, he has developed his thesis entitled "DEVELOPMENT OF A LOW-COST WEARABLE PREVENTION SYSTEM FOR MSDS USING IMU SYSTEMS AND ELECTRICALLY CONDUCTIVE MATERIALS VIA ADDITIVE MANUFACTURING", under the guidance of Professors Aitor Cazón and Mabel Rodríguez, in the Industrial Design Area of the Department of Mechanics at Tecnun.
As a result of his work Chuan has presented a paper at the International Joint Conference on Mechanics, Design Engineering and Advanced Manufacturing (JMC 2018), published a chapter of in the book titled "Lecture Notes in Mechanical Engineering. Advances on Mechanics Design and Manufacturing II" from Springer Publishing and has published a research paper in the Rapid Prototyping Journal.
The members of his thesis tribunal were: Alejo Avello, principal investigator of the Materials and Manufacturing Division at Ceit; Sergio Ausejo, senior researcher at CEIT and associate professor of biomechanics at Tecnun; Richard Bibb, Professor of Medical Applications of Design at Loughborough University (UK); Joaquín Luis Sancho, professor in the Department of Mechanical and Construction Engineering at the Universitat Jaume I; and Christopher McComb, Assistant Professor of Engineering Design at Penn State University (USA).