News

LATEST NEWS AND EVENTS FROM THE SCHOOL OF ENGINEERING
Back to 2021_10_08_Career_Services_Boot_Camp_Madrid
Employability training, a pillar of the University's postgraduate campus
More than 160 Master's students have participated in the Boot Camps, conference intensive training courses in which they learn how to face selection processes.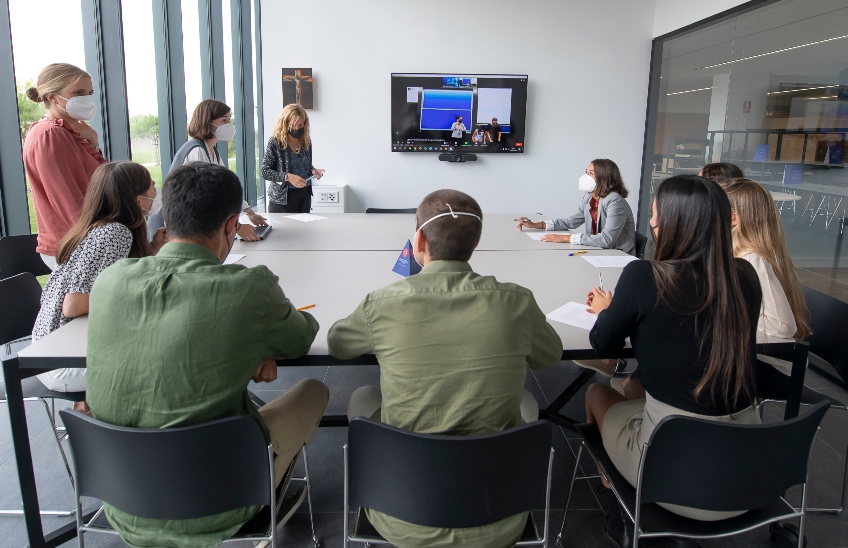 Master's students at the University'sCampus in Madrid have focused on their professional development during the month of September thanks to the Boot Camps, conference intensive training in employability adapted to their professional profiles. These are organized by the faculties in collaboration with Career Servicesthe University's Careers Office .
Master's students from the School Pharmacy and Nutrition, the School of Engineering (Tecnun ) and the School of Architecture have learned, for example, how to make a good resume, how to prepare their LinkedIn profile and how to face a job interview.
In total, more than 160 students from the aforementioned centers have participated in the Boot Camps at the beginning of the academic year. Among them is Belén Rodríguez Berdaguer, who is one of the 36 students of Master's Degree in Pharma-Biotech Business Management who participated in the Boot Camp: "I have been able to deepen my self-knowledge, which has helped me to rewrite my curriculum. The training conference made me understand that I need to adapt it to the subject of the company I am targeting. On the other hand, I found the mock interviews and group dynamics result very stimulating and entertaining. All this learning is going to be of great help to me financial aid to find a job that suits my professional objectives".
Around 20 students from Master's Degree in Industrial Engineering also enjoyed an intensive workshop focused on improving their employability. "From Career Services they advised us on how to develop a more attractive resume for future selection processes, as well as how to prepare a good LinkedIn profile . We also learned how to face job interviews through a simulation. I am very grateful for having been able to participate in this experience, which will undoubtedly be very useful for me and which I will keep in mind when I apply to any selection process", says Aníbal Núñez, one of the students of the Master's Degree in Industrial Engineering.
Apprenticeships with companies
In addition to learning how to make the best possible use of LinkedIn, 108 students from the School of Architecture enjoyed a roundtable focused on the opportunities and challenges that currently exist in the architecture sector, with an emphasis on the world of sustainability and the field of real estate management (Real Estate). The speakers at the table were Ainhoa Valle, Real Estate Associate at Deloitte Spain; Miguel Ángel Díaz Camacho, architect and former president of ASA (association Sustainability and Architecture); and Alfonso Urbano, partner of AND COMPANY.
The students of the Escuela Técnica Superior de Arquitectura who attended the workshop study different master's degrees: Master's Degree in Architecture; Master's Degree in design and Environmental Management of Buildings; Master's Degree in Real Estate Strategy and Market (Master in Real Estate); Double Master's Degree in Architecture and Sustainability; and Double Master's Degree in Architecture and Real Estate.
During the same month of September, also at the postgraduate headquarters, the School of Law organized conference training and career guidance, three days in which more than 80 new students of the Master of Access to the Bar, Master's Degree in Business Law, Master's Degree in advisory service Taxand the new Master in Digital Law participated. 
They learned how to design a resume, prepare for a job interview, face a selection process and overcome group dynamics. The conference had professionals from law firms who explained, among other issues, what profile are looking for, what a lawyer's professional career consists of, what it is like to work in a law firm depending on the area of specialization chosen, how communication with the firm should be, and how to improve the profile of LinkedIn. They also made a radiography of the legal sector and psycho-technical and personality tests. The firms Abogados Garrido, Allen Overy, Ashurst, Cuatrecasas, Dentons, DLA Piper Spain, Gómez Acebo & Pombo, Herbert Smith Freehills, Hogan Lovells, Pérez Llorca and Uría Menéndez were present.