News

LATEST NEWS AND EVENTS FROM THE SCHOOL OF ENGINEERING
Third year students are passing the halfway point of their time in Tecnun
The Miramar Palace hosted the awarding of scholarships and a round table with former students.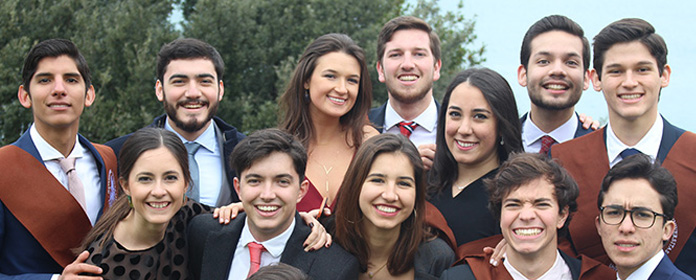 Students at the Miramar Palace on the day of their promotion.
PHOTO: Communication Service
The third year students have spent this morning the halfway point of their stage in Tecnun. The day began with a Mass in the parish of San Sebastián Mártir with the chaplain, Don Toché Marín. chaplain Toché MarínToché Marín, who stressed the importance of a good technical, human and spiritual formation. At 12 noon, after several selfies, some jokes and a little cold, the young people took their seats in the auditorium of the Miramar Palace. Miramar Palace to receive their scholarship and listen to the testimony of three former students. The theme of the round table, moderated by professor Iñigo GutiérrezThe theme of the round table, moderated by Professor Iñigo Gutiérrez, focused on the students' professional future.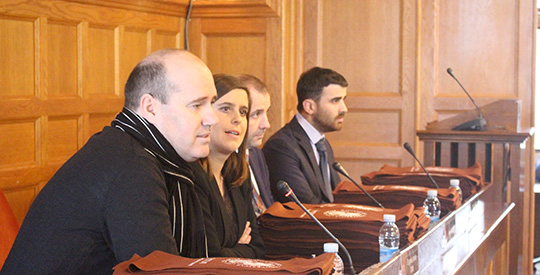 Eugenia Iraola, Head of Human Resources at GKN. GKN, or in charge of "attracting talent", as Iñigo Gutierrez introduced her, spoke of the value of intangibles when hiring an engineer. "We look for people with initiative, who are not afraid to make mistakes," said Iraola. "We take technical knowledge for granted. The skills that are not seen are the ones that are valued," he said.
Daniel Aguinaga (Tecnun'9), Innovation Coordinator of Ikor, has launched an encouraging message to young people: "Write my name down because we want people like you. You are in a powerful university and you are being trained in the latest".
The third speaker, Ander Landaberea, completed the Master in Industrial Engineering last year and after completing the Final Project at Etxe-Tar he started working in this company in Elgoibar. His advice was firm: "Keep training, learn languages and if you have time, don't hesitate to sign up for social activities", while he recalled that the first time he volunteered was thanks to an initiative at ASPACE initiative promoted by the School. 
The round table was also open to questions from the students and one of them asked about the convenience of doing a master's degree after finishing the degree, to which all three answered in the affirmative.
"No doubt. The master's degree is a plus and sometimes the degree falls short," responded Eugenia Iraola, to the nodding of Aguinaga and Landaberea. The latter concluded with the following reflection: "Get to know yourselves thoroughly to decide what you want to do. You are going to spend many hours in your job. There will be failures and hard times, but if you like what you do, you will have a much better chance of being happy".