News

LATEST NEWS AND EVENTS FROM THE SCHOOL OF ENGINEERING
Back to 2018_07_09_ING_federico_alvarez_del_blanco_instrumentos_quirurgicos
"If a Surgical Instrument is left inside the patient, severe infections can occur."
Federico Álvarez Del Blanco (Tecnun'12) is working in California on development for a software application to track surgical instruments in hospitals.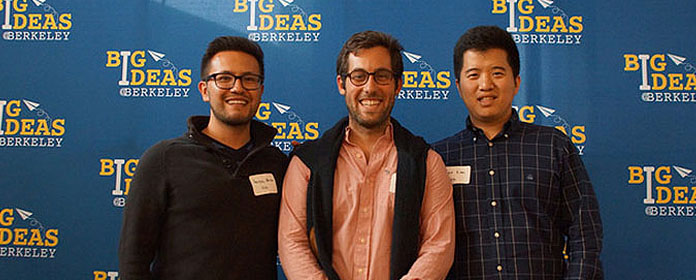 Federico Álvarez del Blanco, former student of Tecnun, with two colleagues in Berkeley.
PHOTO: Courtesy
"It is estimated that between 5,000 and 7,000 cases of Retained Surgical Instruments (RHIs), from scissors to sponges to gauze that are forgotten inside patients, occur each year in the United States," explains former student of Tecnun and current MBA at the University of California at Berkeley, Federico Alvarez del Blanco.  
Keeping count of the instruments that enter the operating room is complicated, as the medical staff must count them before, during and after each procedure surgery to ensure that the instruments that entered the conference room operating room exit as a whole.
New technologies such as artificial intelligence could make IQRs a thing of the past, as the young man from Barcelona points out, after a year collaborating at the University of California in the development of a computer application used to detect, count and track surgical instruments in hospitals.
"The platform - or hardware - that we are working on has a reader, like a camera, that registers the instruments that enter the conference room. It does this thanks to image recognition technology, which is the same technology that is being used for driverless vehicles," describes Álvarez del Blanco. In the same way that an autonomous car detects the passage of a pedestrian or a stop sign and stops, the prototype they are developing would recognize the materials used in the conference room of operating room and record them at all times, making it possible to see which materials have been used and ensure that all those that entered operating room will leave once the operation is complete.
"Operating rooms are dynamic and complex spaces. Up to 200 instruments can be used per operation, and when any of these are left inside the patient, severe infections and even death can occur," he explains.
In addition, and as this young man from Barcelona says, "when the IQR is detected, the patient must be readmitted for a new surgery, which entails legal costs of approximately 500,000 dollars per case".
"Today, companies such as Amazon, Google, and Apple are investing heavily in areas where artificial intelligence can analyze large amounts of data, detect diseases through image recognition, or obtain detailed information on patients' health through everyday applications," continues the former student. "This breakthrough innovation has the potential to improve hospital practices, reduce costs for medical institutions, as well as provide more time for staff doctors to focus on what is really important: patient safety in the operating rooms," he adds.
The team in which he works has won numerous awards and obtained a patent for the invention. In 2017, they were awarded the first award in the Innovation of the Year Competition, organized by the Japanese brand NEC. In the last six months, the team won the award from the University of California at Berkeley's Haas School of Business to fund the first tranche of the prototype and, more recently, has been recognized as the second best hardware innovation of the nine California Universities. In parallel, reputable Silicon Valley startup accelerators have concurred on the invention's potential. This summer, the team received the prestigious scholarship from theNational Science Foundation, providing them with $50,000 to determine the feasibility of implementation across U.S. hospital systems.
Álvarez del Blanco is convinced that the coming years will see a formidable increase in new applications using artificial intelligence: "While some proposals may automate monotonous and menial jobs added value, artificial intelligence is expected to complement and work in tandem with people to help workers in many sectors to be more effective in their daily tasks," he concludes.