News

LATEST NEWS AND EVENTS FROM THE SCHOOL OF ENGINEERING
"We simply want to do our bit to help improve the school".
Gustavo Lascurain and Iñigo Logroño, new delegate and sub-delegate of the Tecnun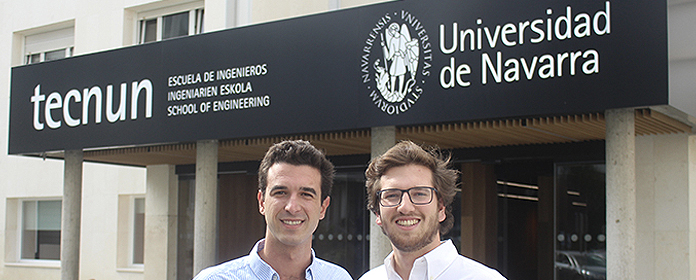 Iñigo Logroño and Gonzalo Lascurain at the door of the Tecnun
PHOTO: Communication Service
Gustavo Lascurain and Iñigo Logroño are the new delegate and subdelegate of Tecnun, respectively, and in the following interview they review the challenges they want to carry out during the next 2018/2019 academic year.
What does it mean to be the School's delegate?
Gustavo: Being a delegate involves work, discipline and effort. But it is a job that is done with a lot of affection for the school. It also takes time, as there are many ideas that you would like to be able to carry out from the very beginning of your career.
Why did you apply? 
I consider myself a person who likes to see things change for the better and because of the way I am, I really like to be part of those changes. I consider that I am simply doing my bit, as do the rest of the students at the school in different tasks.
What do you think you can contribute?
What we can contribute from the student delegation to the school is to give a different view of the problems that may arise. I think that being in this position motivates you to work harder for the school and to be a participant and driving force for possible changes, both in the school and for all the students.
What will your main tasks be?
This year we have proposed to improve student mobility, trying to communicate the two campuses in Donostia and to include Tecnun in more activities in Pamplona. Secondly, we want to improve student experiences on campus, we want the School to be more than just a place to study, we want more activities to take place where campus and students interact on a more relaxed level. Thirdly, we want to try to improve the syllabus, giving the student's point of view, as it is often the teachers who make these decisions, and a specific committee has been created for this purpose.
For his part, the sub-delegate, Iñigo Logroño, replies as follows:
What does it mean to be the sub-delegate?
Being subdelegate gives me the opportunity to help improve Tecnun, managing projects that help students and teachers in their day-to-day life at the University, from a different position. We need everyone's help to move forward with the projects that are underway, I just want to help and make people see that improving the University is everyone's business.
Why did you go for it?
Personally, I have always enjoyed dealing with people. When Gustavo told me about presenting himself, I saw the opportunity to help him and contribute my work and ideas, as well as the incentive of the number of new people that this opportunity allows us to meet. On the other hand, I found it interesting to learn how to develop real projects with the other delegates, things that are not just a mere work of some subject, but real things that we intend to put into practice and that really help the students and teachers of Tecnun.
What do you think you can contribute?
First of all, work, because without that it is impossible. On the other hand, a management of the delegates' committees that allows us to take forward many of the ideas that the students have. In addition to this, I think the most important thing I can contribute is a flow of information between students and teachers that motivates students to get involved in new projects, making them see that the things they propose do not remain stagnant, but are studied and tried to be implemented.
What are your tasks?
We care a lot about the atmosphere of our University. At the moment there are many things we want to improve in order to make students feel more at home here and to foster an atmosphere on campus that is more than just studying, giving possible ideas for the reforms to be carried out in the School. On the other hand, we are developing ideas to bring students and teachers closer together, improving existing communication channels. Finally, a project is underway for students who come with a car to start sharing a car, helping those who don't have one, reducing the parking problem at the university and improving student mobility .