News

LATEST NEWS AND EVENTS FROM THE SCHOOL OF ENGINEERING
Back to 2020_11_12_TECNUN_fallece_antxon_martin_meizoso
Death of researcher Antonio Martin Meizoso
Full Professor in Materials Science from Tecnun, he was outstanding for his research work at Ceit for more than 40 years.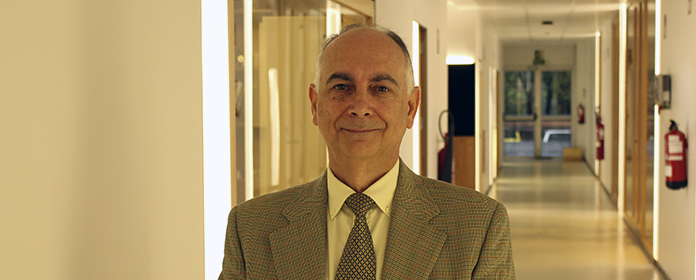 Antxon Martín Meizoso in the facilities of Ceit
PHOTO: Communication Service
Last November 9, Antonio Martín Meizoso, researcher of Ceit and professor Full Professor of Tecnun- Engineering School of the University of Navarra, passed away in San Sebastian, Spain, due to Covid-19. He had retired last December, after a brilliant professional career of more than 40 years. The funeral will be held tomorrow, Wednesday, at 6 p.m. in the Cathedral of the Good Shepherd.
Martín Meizoso, graduate Naval Engineer by the ESI Navales of the Polytechnic University of Madrid, joined the School of Engineering of the University of Navarra in the academic year 1979-80 as Professor teaching assistant of Physical Metallurgy and PhD student in a project on high speed railroad wheels in collaboration with CAF. He also worked at the nuclear company TECNATOM and resumed his academic and research activity at Tecnun and Ceit without interruption until his retirement in 2019.
He started a thermomechanical fatigue testing (TMF) team that has been serving the aeronautical turbine industry for several years. His great topic, among the many fields in which he worked, was Fracture Mechanics, or how to maintain the integrity of static or dynamic Structures with cracks, a scientific-technical area in which Tecnun-Ceit, together with the ESI Caminos of the UPM of Madrid, were pioneers in Spain under the inspiration of Professors Manuel Fuentes and Manuel Elices. They promoted the Sociedad Española de Integridad Estructural-Grupo Español de Fractura, of which Antxon Martín Meizoso has been President for eight years, the last of his professional activity.
He published 57 articles in international peer-reviewed journals, 13 in national journals, 122 articles in congresses, 19 book chapters and 15 books. He supervised 9 doctoral theses. Meizoso has participated in 50 research projects of Ceit, many of them directed by him.