News

LATEST NEWS AND EVENTS FROM THE SCHOOL OF ENGINEERING
Back to 2019_12_10_noticia_TECNUN-zaldua
"I was attracted to the option of trying my luck in a special company."
Iñaki de Zaldua: "It was Sarri who encouraged me to do my GFP at FC Barcelona, so I will be eternally grateful to him".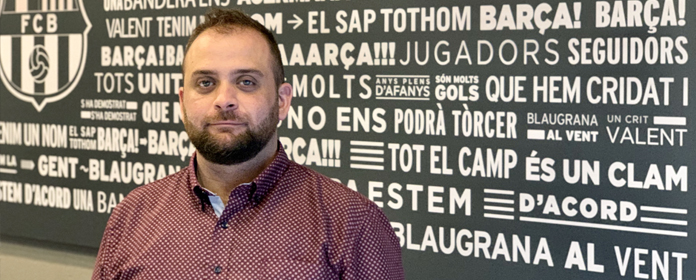 Iñaki de Zaldua poses at the FC Barcelona facilities.
PHOTO: Communication Service
Iñaki de Zaldua studied Industrial Engineering at Tecnun and at second cycle changed to Industrial Organization Engineering. Degree "My cousin studied and got his doctorate at Tecnun and therefore had very positive previous experiences," says de Zaldua, who is currently working at Futbol Club Barcelona, after completing his Final Project (TFG) at the club.
What would you highlight from your time at the School?
These are important years at staff. The pressure for the future, the expectations generated by the people who love us... sometimes it is not easy to manage when you are 20 years old. So, apart from the process and the academic learning, I would like to highlight the atmosphere at the School. There were many hours there, you ended up arriving early in the morning and leaving in the afternoon. And I was not an exemplary student , what are we going to fool ourselves. But the School always offered you a new opportunity to get up when you stumbled. Sometimes they trusted in your possibilities more than you did. Maybe you don't know how to appreciate it at the time, but you don't find that in just any school.
How did the option of doing the project end of career at Barca come up?
For personal reasons I moved to live in Barcelona. And I still had to do the PFG. So I had to get down to work and go out to the street to look for an opportunity to present to the school.
So I opened two lines of search: The "conventional" one: I approached the Universitat Politècnica de Catalunya (UPC) to see if they could give me a hand. In this way I got a PFG option through their Chair SEAT.
And the "curious" one is this: I was attracted by the option of trying in a "special" company. So I decided to try my luck with FC Barcelona. I did some research to find ways to contact with some people inside the club and I drew up a strategy to "sell" the benefits that a PFG could bring them. I didn't know anyone on the inside, so I had to have a concise and interesting pitch. Doing some research I managed to find a way to contact with several of the club's vice presidents and one of them thought that my GFP represented an interesting opportunity for them, in addition to the one I represented for me.
Did any professor at Tecnun have a hand in the election final?
Yes, the rest of the story was made possible thanks to Jose Mari Sarriegui. I went to Tecnun with two PFG options: one in the industrial sector and the other in an "atypical" company. And that, whether you like it or not, generates some doubts. Perhaps "what was best for me" did not necessarily have to be "what I most wanted to do".
It was 'Sarri', who at that time was the one who gave the approval to the PFGs in the department of Organization, who invited me to bet on FC Barcelona. As if he had been infected by my enthusiasm, he explained point by point why the project at Barça that I presented to him was, from an academic and professional point of view, more interesting than the one that brought him from SEAT. A real liberation, let's go: academia was aligned with what motivated me.
I was very saddened by his passing and remember him often. There is a part of my life today that I owe to that morning in his office and the "discussions" we had in our teacher-student relationship. He always told me that it made him very angry that I did not reach my full potential. I don't know why, but it is something that has marked me professionally. I take this opportunity to send a hug to the family and the people of Tecnun who, I am sure, miss him very much.
What is your day-to-day life like in Barcelona?
FC Barcelona is a constant learning process. The sporting aspect is the most recognizable element of the club for the people. Sometimes the only one, I am aware. But a lot of work is done at other levels. I am particularly involved in the review of the area Social processes already in place, in trying to find opportunities for improvement and in participating in the design of new processes. I work closely with the club's IT department and we are constantly looking for ways to optimize the work of our colleagues and the relationship between the club and external agents. In addition, for some time now we have been trying to evolve from a functional model to a process management one.
What would you tell students when they dream of doing a project or working in a company, and don't know how to reach them?
Getting to work in the company of your dreams is not exclusively in our hands, unfortunately. There always has to be a touch of luck. Or showing up in the right place at the right time, which is the same thing. I'm not good at giving advice, but if I had to I suppose I would insist that they have a story. There is no magic recipe. Companies don't have time to waste and you have to know what you can bring to them in the short term deadline , concretely, without ambiguities.
Once we have that story, we have to study the company's organization chart and draw up a strategy to transfer it to the person we think is the most convenient according to what we have discovered. Nowadays, in this era of networks, it is easier to get an idea of the structure of an organization. But all this requires a lot of time and dedication. At final: story, research work and good luck.