News

LATEST NEWS AND EVENTS FROM THE SCHOOL OF ENGINEERING
"Being their eyes, not only on the track, but for actions such as walking or eating is a great responsibility."
The student Miren Andonegui won the Spanish championship as a guide skier for a young girl with reduced visibility.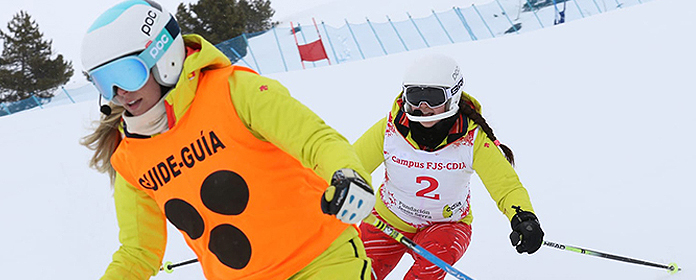 The student of Tecnun Miren Andonegui with Enara, her ski partner.
PHOTO: Courtesy
When Miren Andonegui began her studies at Tecnun she thought she would not be able to combine them with one of her greatest passions: skiing. "I thought, I'm going to focus on my studies and take the sport as leisure." What Andonegui didn't know was that an opportunity would knock on her door in her sophomore year, offering her the chance to be the ski guide for a 14-year-old blind teenager whose dreams promised to surpass any of her limitations. 
"I got a call from my coach and she said 'Hey Miren, in Lasarte there is a visually impaired girl who needs a guide coach. She's on the national team. I've told your achievements and your story, we see that you are young, that you live quite close and we would like you to join and be her guide,'" Andonegui recalls fondly. 
The name of this lasartearra is Enara, she is 16 years old, and despite having a high visual impairment "wants to do things like everyone else. She doesn't use a cane to walk, nor does she need Braille to write", as the student from Tecnun explains after two years as her skiing partner. 
Enara's personality caught Andonegui: "She told me that when she was 8 years old she wanted to ski with her older brother and her parents told her not to go, that she couldn't do it. But she said 'I'm going too'". Perhaps it is this perseverance and desire to excel that has led Enara to win first place in the Spanish Championship for the mentally, physically or visually impaired.
Of course, she does it with Miren at her side, always dressed in bright colors to make her job easier: "We go around with tiny microphones to communicate, and inside there are some loudspeakers. If there are any ice patches I let her know, but since I'm wearing bright colors she sees me well, because she is guided by color. Before the race we do a reconnaissance of the track to see how it will be. First we reconnoiter the track, study it a bit and then we go down it," Andonegui describes with a broad smile. 
"I am delighted. Doing what I like and learning a lot about the value of overcoming. You see her and she wants to do it so much that in the end, she succeeds". Once the season starts, between December and April, they take advantage of the weekends to train on the slopes of Candanchú, Formigal or Baqueira, and when summer arrives, they test themselves on a glacier in Switzerland. "I'm also getting to know a lot of things that I wouldn't otherwise know," this student of Tecnun reflects aloud.  
Their first contact arose in Madrid in 2016 in the Xamadú shopping center to take the first steps. Andonegui remembers it as if it were yesterday: "We went by train and when we arrived in Madrid I told her: 'Stay here, I'll lower everything and help you get off'. But she, seeing that she was a hindrance that prevented people from getting off the train, wanted to get out of the way. She dropped her shoes on the tracks and we put on a show...", she recalls. 
Being her eyes, not only on the track, but for life, for walking or eating, is a great responsibility for Andonegui. "If something happens to her, in the end the responsibility is also a little bit mine, and until something like that happens you don't realize how much responsibility you have," he continues.
"It is beautiful to see how she evolves... There is a huge change from the first year to the second. Because she is assimilating more and more what is happening and is seeing that for certain things she does need help. And that's how things work out, as she gets more involved," she says with conviction.   
Andonegui is now taking a break from this experience as he is leaving for Erasmus in the United States in December and will return in August. But he intends to continue upon his return. "I'm really enjoying it. We want to go to the European Championships and the horizon is to compete in the Paralympic Games in Bejin. We are working for it", predicts this woman from San Sebastian.