News

LATEST NEWS AND EVENTS FROM THE SCHOOL OF ENGINEERING
The University, among the four best Spanish universities according to the Times Higher Education international ranking 2020
The academic centre has improved research, internationality and income in connection with industry.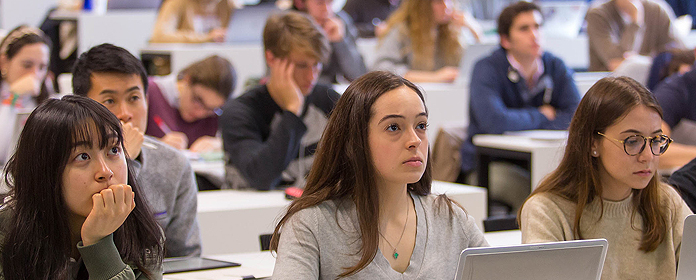 University students during a class
PHOTO: Manuel Castells
The University of Navarra is the fourth best university in Spain, according to the Times Higher Education World University Ranking 2020. Moreover, with respect to the previous edition, it continues to rank in the 251-300 range of the best universities in the world. The fourth position is held by the Universidad Autónoma de Madrid and the podium is made up of the Universidad Pompeu Fabra, the Universidad Autónoma de Barcelona and the Universidad de Barcelona.
In its sixteenth edition, the ranking has assessed more than 1,300 universities from a total of 92 countries, making it the most extensive to date. Five areas are evaluated for the ranking: teaching, research, academic appointments, industry income and internationality. The University of Navarra has improved in three of these five areas, including research, internationality (with more than 25% of the student body) and income from industry, the latter being the most significant increase (with a rise of more than 18%).
These results are framed by an increase in the number of Spanish universities, with seven new entries and a total of 45 universities. This makes Spain the third most represented country in Europe in the ranking, after the United Kingdom and Germany.
For Ignacio de Lorenzo, director of the Rankings Unit at the University of Navarra, "we are satisfied with this result and at the same time it provides us with interesting comparative information to continue working on our objectives: teaching innovation, personal counselling, humanistic training, employability and improvement of research".