News

LATEST NEWS AND EVENTS FROM THE SCHOOL OF ENGINEERING
Back to 2020_09_11_TECNUN_sara-arietaleaniz-kiro-grifols
"I am working on something that fulfills me and is allowing me to grow staff and professionally."
Sara Arietaleaniz, a biomedical engineer from Tecnun , has been with Kiro Grifols for 4 years.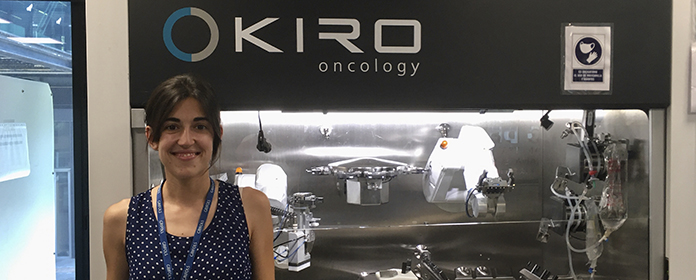 SaraArietaleaniz works at Kiro Grifols
PHOTO: Communication Service
Sara Arietaleaniz is a former student of Tecnun, where she studied both the Degree in Biomedical Engineering and the Master's degree at discipline. "I have a hard and intense, but at the same time satisfactory memory of my time at Tecnun," recalls Sara, who has been working at Kiro Grifols for the past four years. 
What is your memory of your time at Tecnun?
I remember the cafeteria crowded with people at noon, the long afternoons in the library or in the laboratories, and, above all, the time shared with the people I met there. Studying at Tecnun involves time and dedication and that leads you to lean a lot on the people next to you, with whom you make great friendships, because when the sacrifice is shared, everything goes better.
Why would you recommend it?
I feel privileged to have had the opportunity to learn from the professors and to have been able to take advantage of the resources that Tecnun provides. I recommend it because of the proximity in the attention (especially in the master, since we were a smaller group), the opportunity to learn from great professionals in their area of knowledge, as well as the availability of the resources to facilitate and improve learning. 
However, the biggest reason I would recommend this university is for the training in the non-technical aspects (critical thinking, analysis and decision making, communication and group work) which are the aspects I have had to pull from the most in the working world.
What professional doors has the master's degree in Biomedical Engineering opened for you?
Tecnun gave me the opportunity to present my project end of Degree in a European congress (I take this opportunity to thank especially to Professor Raul Cruz for the opportunity), which led us to the publication of a scientific article . After discarding the possibility of a doctorate and having completed the master's degree, this fact, together with the financial aid of the then director of the master's degree Maite Mujika, I managed to do the project end of master's degree in the company in which I had been working for about 4 years, Kiro Grifols (now part of the pharmaceutical company Grifols).
What is your job at Kiro?
At Kiro Grifols we are dedicated to the automation of hospital pharmacy processes, including the KIRO Oncology robot, designed to automate chemotherapy preparation processes. We never know where life will take us, but for the moment and luckily, I am working in something that fulfills me and is allowing me to grow professionally staff .