News

LATEST NEWS AND EVENTS FROM THE SCHOOL OF ENGINEERING
"It's a privilege to be involved in these projects, as we get right into the business environment".
The company Plasmir rewards the work of students from Tecnun in the design of a chair.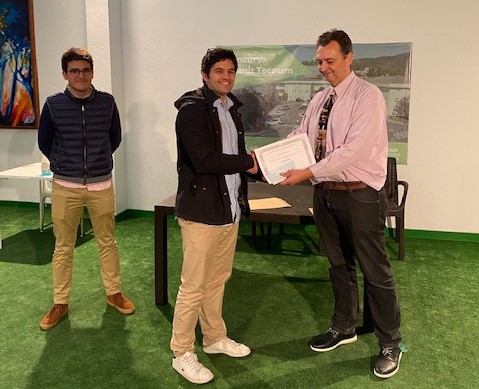 Recently the company Plasmir proposed to the students of the Degree in Industrial Engineering design and development of Product a contest of design in the framework of the subject Workshop II, taught by Iñigo Echeverría. The winners were the studentsJon Aranburu and Javier Bereciartua, who in this interview talk about what this challenge has meant for them.
What does the work you have done for Plasmir consist of?
The project was to design a chair for Plasmir's Garden Life range, oriented to be used in a high-end domestic and hospitality environment. Some of the big challenges were to make a design that was easily stackable, had good resistance and adapted to the technical requirements of its manufacturing process (demolding, thicknesses, feasibility of the molds, etc.).
What has this work brought you?
It has been an exciting project , which has allowed us to better understand the real design process of a product and where we have been able to enter into the business environment and the manufacture of injection molded parts.
Why do you think you have been awarded first place?
From the beginning we wanted to go for a breakthrough design , keeping the points core topic of the chair we wanted to replace. We realized that this is a very competitive market, where several manufacturers offer very similar chairs, so we wanted something different. Our proposal combines innovative aesthetics, with cantilevered arms as a highlight, along with comfort and functionality.
Do you consider that these subject projects are useful for your training?
It is a privilege to be able to participate in projects such as this subject, as we fully enter the business environment and learn how to manage what will be our daily lives in the future.  
What did award itself consist of?
Apart from the economic award , we made a visit to the company, in Miranda de Ebro, where we could meet the whole Plasmir team and they invited us to a good meal. They also told us that they are working on the industrialization of project and the best award will be to go down the street and see our chair on a terrace.