News

LATEST NEWS AND EVENTS FROM THE SCHOOL OF ENGINEERING
Hotzaldi protects homeless people in Donostia from cold and hunger
The Solidarity Youth Concert on February 23, organized by the Colegio Mayor Ayete, will collaborate with the night shelter project managed by Caritas.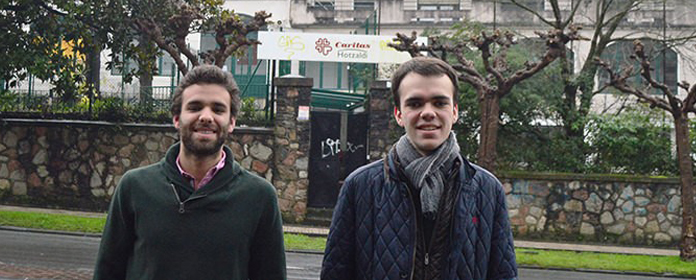 Nacho Pérez and Borja Apaolaza in front of Hotzaldi, Caritas Gipuzkoa's night shelter project.
PHOTO: Communication Service
The night shelter project of Caritas Gipuzkoa (Hotzaldi) protects homeless people in Donostia from cold and hunger. From 9 p.m. onwards, it opens its doors to give shelter to the most disadvantaged people, 70% of whom come from other countries. Located at the top of Ategorrieta, in a building owned by the Congregation of the Servants of Mary of Anglet, Hotzaldi welcomes daily an average of 40 people who come to dine and sleep. They are accompanied by volunteers such as Nacho Pérez, a 22-year-old student from Oviedo and a schoolboy from Ayete. "You walk in, cross the courtyard and come to a large room. That's Hotzaldi. In front is a room with beds and blankets, to the left is the kitchen next to the smoking room, and at the back, an access to the bathrooms." Like Nacho, the rest of his fellow students at the Colegio Mayor leave their comfort zone, two Saturdays a month, to put themselves in the shoes of these people and spend the night with them.
They arrive and ask how they can help, and in Nacho's words, "they lend a hand in the kitchen, play checkers, or sit and chat while some smoke a cigarette". The first contact is sometimes difficult, some users just want to have dinner and go to sleep, "but others simply need you to listen to them, to have someone to share their life with," says Nacho. Moreover, after several years of going, some faces repeat themselves and the bond grows. "The project transforms those inside and those who go. You realize that you live too well. You see people who could be your father with a backpack and little else...", explains Nacho. Perhaps this is what surprised him the most three years ago and what continues to mark him. "If these people are able to smile having so little, I, who have so much, can do, come on...", he says convinced.  
The conviction that they can help is what drives the students to flee from individualism and join initiatives such as this one. The Youth Solidarity Concertorganized by the Colegio Mayor Ayeteis now in its 10th year and is a clear example of this. More than 100 students from Tecnun have spent months preparing the event, which will take place on February 23 and whose funds will go to the homeless cared for by Caritas Gipuzkoa. 
In this edition the Orfeón Donostiarra will perform together with the symphonic orchestra of Musikene. Accompanied by soloists, they will offer the Requiem and the Sinfonia Concertante, by W.A. Mozart, under the baton of the English conductor Rumon Gamba. Borja Apaolaza, master's student and conductor of this year's Concert, recognizes the work involved in combining it with his studies. But it pays off. Filling the Kursaal is his priority for the two weeks remaining until February 23. They have papered the streets of San Sebastian with posters and he has promised to swim across to Santa Clara Island if he succeeds, as he says with a chuckle. "Those who focus on the concert buy a ticket, but those who see beyond that, and think about the cause, get involved and do everything they can to fill it," says Borja, referring to the support he is receiving from many schoolchildren. As a future industrial engineer, he enjoys "organizing things, but if they are for others, better than if they are for me," he adds. "The concert leaves no one indifferent. People leave every year touched because you realize what you have achieved," he concludes.