News

LATEST NEWS AND EVENTS FROM THE SCHOOL OF ENGINEERING
Back to 2020_06_12_noticia_TECNUN-formacion
A commitment to training and counseling to improve employability in times of Covid19
The University of Navarra develops a plan to help its students and graduates make the leap into the world of work with online training and recruitment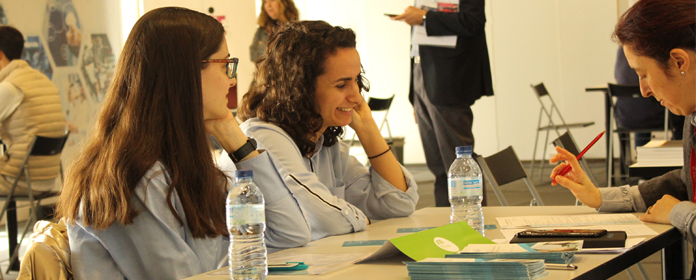 Two students from Tecnun at the Employment Forum organized every year by the School of Engineers.
PHOTO: Communication Service
The University of Navarra has continued to work to promote access to the labor market for its recent graduates, bearing in mind the global health and economic crisis of Covid19. The Career Services team has developed a plan of activities and actions that has been developed during the last three months and that extends to the next semester of the 2020-2021 academic year.
"We have focused all our efforts on four aspects: offering more and better recruitment opportunities to our students and graduates; dedicating more time to staff and specialized orientation; organizing training activities to take the first steps in the world of work; and closely attending to the needs and demands of collaborating companies," explains Roberto Cabezas Ríos, director of Career Services. "In our Service -he adds- we are aware of the difficulties that our graduates and alumni are facing in this economic situation. We want to be by their side, support and advise them. status We are going to focus our efforts on providing them with tools that will help them overcome such a complex situation as the one we are currently experiencing".
Among the actions planned is the expansion of agreement with JobTeaser, Europe's leading first job platform. From now on, in addition to international internships and employment, students and alumni have the opportunity to search for job offers in Spain. Through this platform, the 'Meet The Expert' cycle is being offered, in which professionals from different fields share their experiences and Human Resources managers explain what profiles they are looking for and what their selection processes are like.
Students and graduates of campus from Pamplona, San Sebastian (Tecnun) and Madrid have not only been able to train for the job search, but have also had the opportunity to find options at the international level. More than one hundred national and international companies from different sectors participated in Highered's virtual international job fairs. At these fairs they were able to opt for different graduate programs, access to internships and hiring opportunities with experience. And this June, on June 16 and 17, the Headhunter Days event will take place, with Robert Walters and Euromanager, who will offer guidelines and tools on how to face a selection process.
446 students have completed their internships
Despite the confinement and the state of alarm, and thanks to the support of the collaborating companies, 446 students from the University have been doing internships in companies, institutions, foundations, research centers and NGOs since March. In addition, another 167 alumni have continued their training during this period with the Postgraduate Program in Business Initiation (PIE). A few have continued to work on-site, but most have turned their home into their new office. In the face of such a complicated employment scenario, a very special effort is also required.
Miguel Giménez Uncedo is about to finish his Master's degree in Biomedical Engineering at Tecnun, the School of Engineering of the University of Navarra in Sebastian. An extracurricular summer internship at IBM led him to do his project Master's Thesis at the same company. He first received training in that company and participated in different projects and then, in December 2019, he started his PFM, in which he is applying everything he has learned. His project is about development and the application of analytical tools and Machine Learning algorithms to predict people's health status. He started face-to-face, but when the confinement began he had to start teleworking. "Being a student I was sent home for security. To communicate with each other, two meetings of the whole team are organized at data analysis. In my case, I talk to them about my PFM tasks, which is a part of the whole team's project . Communication is quite fluid and there is not much difference between working in the office or from home. Personally, I'm doing quite well with telecommuting because I don't waste time commuting to the office, as it used to take me an hour to get there and another hour to get back. It is true that I miss the contact with my colleagues, especially lunchtime, which was a good time to disconnect," he says.
Raquel Rodríguez Aranguren, in addition to being in her last year of her degree at Degree at design, is a 4th year delegate and subdelegate of the Escuela Técnica Superior de Arquitectura. She is currently in Madrid doing her TFG at the company Fjord, part of the Accenture group. She was on exchange in Rome from October to the end of February and on her return she was only able to spend four days in her hometown, Pamplona, as she had to go to Madrid to start her internship at Fjord. What he didn't expect was that he would only spend two days in the studio: "On March 9 I started my internship. From March 11 onwards I didn't go to the studio anymore. You have to have a lot of patience and flexibility, this is something new for everyone. It is important to be in constant communication with the company, as the work goes better. By setting realistic goals and organizing my days, I am managing to make statusmore enjoyable," says Raquel Rodríguez.
Also in Madrid is Víctor Lana Arceiz, who began his curricular internship for the Master's Degree in Access to the Legal Profession in September 2019, months before COVID-19 arrived in Spain. She is doing them at the department of Litigation and Arbitration of Clifford Chance's Madrid office, where she already did her internship in the summer of 3rd year. Since the first fortnight of March he has been teleworking: "I believe that those of us who find ourselves in this status have the opportunity to be part of an important change: it is not unreasonable to think that as a result of this status the classic face-to-face models, prevailing in most service companies, will move towards a more liquid Structures in which teleworking will play an important role", explains Victor Lana from his possible home office.
For the next course
The Career Services plan reaches the start of the next academic year with the Boot Camp: two intensive days of job search training at the beginning of the 20/21 academic year, at the graduate campus in Madrid. In October and November, in collaboration with Alumni of the University of Navarra and Alumni IESE Business School, we will continue to organize a series of meetings with CEOs of national and international companies: the 'Career Experience', at the Madrid campus and at IESE in Barcelona. In addition, theSkill Training Programwill continue in Pamplona and Madrid, where company executives will share their knowledge of skills and their experiences in the world of work. There will also be a virtual fair with companies from the consultancy service and investment banking sectors, among other activities.