News

LATEST NEWS AND EVENTS FROM THE SCHOOL OF ENGINEERING
Back to 2020_07_13_TECNUN_tesis_marta_iturriza
First international thesis with accredited specialization in Basque to be defended at Tecnun
Marta Iturriza defends her thesis in the School of Engineering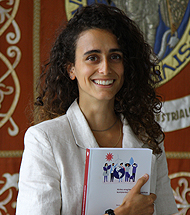 Last Friday, July 10, Marta Iturriza made the public defense of her doctoral dissertation, entitled "A framework for city stakeholders climate change awareness-development process", before the tribunal chaired by Dr. Jose Julio Gonzalez, at the classroom of Degrees of the Ibaeta Building of Tecnun.
After the thesis defense, all the members of the tribunal congratulated Marta Iturriza and her thesis director, Dr. Leire Labaka, for the research work carried out. It should be noted that the thesis was defended in two languages: English and Basque, the latter to "honor Sarri, who would have been especially excited about it," Iturriza said.
"In fact, I have the volume in both languages", the new doctor points out, "and in the presentation I did a part in Basque, for which the tribunal had simultaneous translation". In addition, certain formalities were made and a person from Euskaltzaindia attended the act of defense and evaluated the work, "making everything a little more official", remarks Iturriza.
"In my case I have complied with the requirements for the international accredited specialization (thesis in English, stay in a foreign university, publications in English and international external evaluators). But I have also obtained a C2 degree in Basque. I decided to translate the volume of the thesis into Basque and the Euskera Batzordea of Ceit/Tecnun told me that if I did 50% of the defense in Basque and fulfilled the level, I would get the C2 in Basque. This is the first time it has been processed at the School. That is to say, although there are cases of theses defended/translated into Basque, it is the first time that it is managed with Euskaltzaindia and the title equivalent to C2 is granted, says Marta Orgullosa.
Marta Iturriza's thesis was the first time that an international thesis has been processed and defended, and she has obtained the accredited specialization del Basque. "The truth is that everything went very well, I was very comfortable and the court also enjoyed a lot, which was important for me," concludes Marta Iturriza.