News

LATEST NEWS AND EVENTS FROM THE SCHOOL OF ENGINEERING
Imanol Tubia Antillera defends his thesis in Tecnun
This brings to 641 the number of theses defended at the University of Navarra Technology Campus.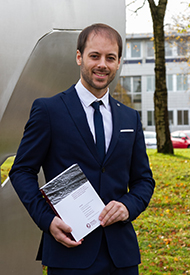 Imanol Tubia
PHOTO: Communication Service
Imanol Tubia Antillera made the public defence of his doctoral thesis, entitled"Development of spoilage yeasts detection biodevices by means of impedance sprectroscopy analysis for alcoholic beverage industry", before the examining board chaired by Dr. Sergio Arana Alonso in the Aula de Grados of the Ibaeta building in San Sebastian on 17 December.
After the defence of the thesis, all the members of the examining board congratulated Imanol Tubia Antillera and his thesis supervisors, Dr. Eva Pérez Lorenzo and Dr. Jacobo Paredes Puente, for the research work carried out. With this thesis, 641 theses have now been defended at the Technological Campus of the University of Navarra.