News

LATEST NEWS AND EVENTS FROM THE SCHOOL OF ENGINEERING
Back to 2020_07_14_acuerdo_bbva_universidad
BBVA and the University collaborate to train employees and promote data science research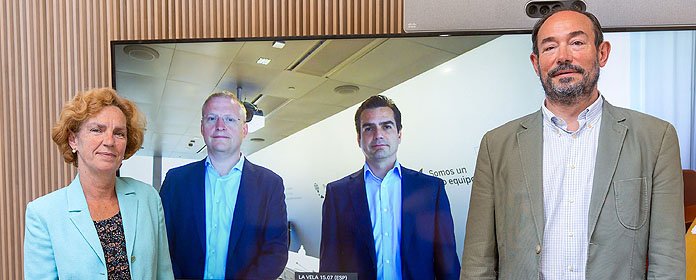 From left to right, Iciar Astiasarán, Ricardo Martín, Carlos Casas and Jesús López Fidalgo, during the collaboration formalised in a telematic event.
PHOTO: Manuel Castells
BBVA and the University of Navarra will collaborate to train their employees and promote research in data science. This agreement will allow BBVA professionals the possibility of taking an official master's degree in 'big data', obtain the recognition of data scientist or perform an industrial doctorate in data science. In addition, the agreement will enable students from the University of Navarra to carry out research work with BBVA and even join the bank at a later date.
The collaboration between the two institutions was formalized in a telematic event with the participation of Icíar Astiasarán, Vice President for Research, and Jesús López Fidalgo, director of the Institute of Data Science and Artificial Intelligence, from the University of Navarra; and Carlos Casas, head of Talent and Culture, and Ricardo Martín, head of Data, from BBVA.
University-business collaboration
This alliance, which opens up several avenues of research between the two institutions in the field of advanced data analytics and artificial intelligence, is a major step forward in university-industry collaboration. "This agreement marks a different way of understanding training and research with the university, creating a synergy that will allow our data scientists to enter the academic world, and university teams to enter the business world. The University of Navarra is a strategic partner for BBVA, with which we are going to create a professional certification and a real pool of talent," said Carlos Casas, head of Talent and Culture at BBVA.
For his part, the director of the Institute of Data Science and Artificial Intelligence of the University of Navarra, Jesús López Fidalgo, highlighted the need to have professionals trained in this field subject that will mark competitiveness in all sectors: "The co-direction of industrial doctorates and the creation of the joint professional certification of data scientist will constitute a seal of quality in the curriculum of professionals in this field. In addition, it is important to provide training that allows data scientists to develop a technically excellent role with the appropriate ethical values", stressed Fidalgo, who believes it is essential to put all these tools at the service of the defense of people's privacy and intimacy.
A vision that coincides with that of BBVA, which has made data a strategic priority, which it now comes to reinforce with this new agreement. "Data is essential to our understanding of financial services. We want to be able to make the most of these technologies to be a more efficient bank and offer personalized advice to our customers so that they can make the best decisions to fulfill their dreams and life goals," said Ricardo Martín Manjón, BBVA's Global Head of Data.
The agreement between BBVA and the University of Navarra focuses mainly on three lines of collaboration:
Certification for Data Scientists: This certification, issued by the University of Navarra and BBVA with global recognition, will be awarded to BBVA professionals who complete the "Data Scientist Fundamentals" training, included in the training offer of Campus BBVA and also perform at least 400 hours of work on the bank's Big Data platform. The work will be supervised by academics from various university centers with proven experience in advanced data analytics.
Master's Degree in 'Big Data ScienceBBVA will have its own group within the master's degree that the University of Navarra offers in Madrid for BBVA employees with a dedication of 1,500 hours of theory and practical work at student. In addition, students of the master's degree at the University of Navarra will be able to carry out their internships or their master's thesis within BBVA.
Industrial doctorates: BBVA data scientists will be offered the possibility of carrying out their doctoral dissertation in the industrial format (applied to a practical case of a company) which will be co-directed by the University and BBVA in a doctoral program of the University of Navarra. Collaboration in research and publication of scientific papers and participation in international conferences will also be facilitated.
BBVA will also take advantage of this close relationship with the University of Navarra to attract talent among its students, who will have access to a job listings to join the bank's project . Meanwhile, data scientists from the group who are interested in the academic field will be able to teach classes or carry out other teaching activities at the University of Navarra.
The road travelled
The agreement is part of BBVA's global strategy to improve its data science capabilities and increase its teams of scientists and specialists. Throughout these years, BBVA has tried to boost this talent subject through different initiatives, both internal training and recruitment of new profiles.
To train BBVA employees, the Group has carried out projects such as 'Transcendence', an internal plan to train data scientists, specialists and advanced analysts, through which 1,400 professionals have already passed throughout the organization. On the other hand, it has also promoted recruitment initiatives such as the 'Young Data Professionals' program, designed to recruit and train the best young talent specialized in advanced analytics.
To boost collaborative work among the group's professionals who are dedicated to data analytics, the 'Space Career' has also been created, where in the last year alone the community has carried out more than 50 activities to share knowledge globally. From 2018 to the present, BBVA has trained 677 data scientists, 676 data specialists, and has 48,356 employees who have completed some Data training. The offer provided by Campus BBVA, the Group's training model , has become one of its main axes to attract and retain talent.
Institute of the University of Navarra
At the beginning of 2020 the University of Navarra has launched the Institute of Data Science and Artificial Intelligence (DATAI) whose goal is to value the potential of the University in this field. The Institute seeks to carry out quality research with transfer to society and the business sector, as well as to provide and advise on training. In particular, in the 2017-18 and 2018-19 academic years, a specialist program in Big Data was taught, which in the 2019-20 academic year has become an official master's degree that is developed entirely at the postgraduate headquarters in Madrid.
DATAI is attached to the School of Engineering and has members from many centres of the University of Navarra.