News

LATEST NEWS AND EVENTS FROM THE SCHOOL OF ENGINEERING
Natural disasters are going to happen and we have to prepare for them.
Leire Labaka, lecturer in the Department of Industrial Organisation, Tecnun-University of Navarre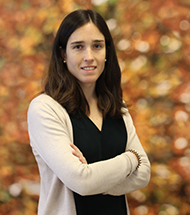 Leire Labaka.
PHOTO: Communication Service
We reproduce below the opinion article published in EL DIARIO VASCO by Leire Labaka, lecturer in the Department of Industrial Organisation at Tecnun-University of Navarra.
"The earthquake in Haiti in 2010, the fires in Portugal in 2017 or this week's catastrophe in Mallorca due to flooding caused by heavy rains, show the enormous social and economic impact that natural disasters have on our daily lives. We need to be aware that disasters are going to happen and that we need to be prepared to deal with them appropriately.
According to data published by the insurance compensation consortium, compensation due to natural catastrophes in Spain has amounted to almost 3.5 billion euros in the last 10 years, double what was recorded in the 10 years prior to this last decade. In addition, the new report on the effects of climate change presented this week by the intergovernmental panel of experts (IPCC) warns that the global average temperature will increase by more than 1.5 degrees above pre-industrial levels if technological and social measures are not taken to change the current trend of CO2 emissions. It has been shown that this temperature increase generates changes in the ecosystem and meteorology, causing more episodes of extreme drought, increasing periods of extreme rainfall and rising sea levels. This results in an increased risk of flooding, strong cyclones and storms, as well as longer periods of extreme cold and heat.
It is therefore important to establish prevention and early warning measures in order to avoid disasters as far as possible, or at least, where possible, to anticipate them in order to take measures to mitigate the damage caused. However, it is not always possible to predict what is going to happen, as in the case of the flooding in Mallorca, nor are predictions always correct. We are then faced with scenarios where the situation overflows and urgent response and recovery measures have to be adopted. Moreover, it must be borne in mind that these catastrophes have an impact on critical infrastructures that provide essential services for the well-being of society, such as energy, water, health, communications, means of transport, etc. As in the case of Mallorca, the cutting of roads and the breakdown of communications have further aggravated the extreme situation and have made response and recovery efforts more difficult.
In general, society is becoming increasingly dependent on the basic services provided by basic infrastructures and, in turn, these infrastructures are becoming increasingly dependent on each other, which means that if one of them fails, the entire system is weakened. It is therefore very important to raise awareness among all actors involved in a disaster that disasters are going to happen and that we need to prepare ourselves to know how to deal with them in order to reduce their impact.
Disaster management is multidisciplinary and involves different types of actors. Proper coordination and cooperation of all actors is necessary for good disaster management. However, the nature of these actors varies greatly. Public actors such as public institutions and emergency services, private actors such as insurers and critical infrastructure managers and, finally, citizens play an active role in disaster management. Each of these groups has a different mission and a different responsibility in ensuring the well-being of society. Therefore, achieving good cooperation and high commitment from all of them is a challenge. Today, there are some public-private partnership initiatives that improve the effectiveness of crisis response. One example is the agreement between the Red Cross and the Carrefour Foundation to supply food to society in the event of a disaster. We also have the figure of a public insurer at state level (insurance compensation consortium) which, in the event of a catastrophe, helps those affected to financially cover the damages that private insurers do not manage to cover.
Finally, we cannot forget the most vulnerable groups. Today, there are still many barriers that make them more sensitive to disasters. For example, a hearing-impaired person has difficulty communicating with the 112 emergency service by telephone to warn of a possible accident.
It is therefore important that all private and public actors and citizens are aware that disasters can happen, that preventive measures are put in place and that we can respond efficiently, minimising the damage caused and restoring normality as soon as possible.