News

LATEST NEWS AND EVENTS FROM THE SCHOOL OF ENGINEERING
"Being a finalist in the 2018 IT Business Challenge was the bomb."
Student Dario Brillembourg recounts his Greek experience in this program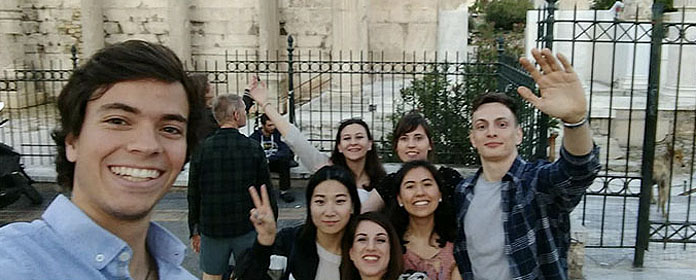 Dario Brillembourg, first on the left
PHOTO: Courtesy
Industrial Organization student Dario Brillembourg is in luck. He has recently been selected in P&G's IT Business Challenge 2018 (ITBC) program and made it all the way to the finals in Greece. "Having had the opportunity to spend a week in Athens on an all-expenses-paid basis with 23 other students from around the world to compete by solving real business cases and experience first-hand how technology enables innovation in consumer-centric brands has been a unique opportunity," confesses a smiling Dario.

What profile of students were eligible for this program?
University students in their final years or Masters who were interested in having exposure to the real world of IT, business and innovation at P&G. Anyone had a chance to apply, but in my personal opinion, most of them were engineers and MBAs and even one in international relations. You had to have a passion for wanting to learn, but obviously you needed technical and even business skills. The selection process had several stages including CV review, face-to-face mathematical, logical and verbal reasoning test, Skype and face-to-face interview -in my case it was in Madrid-, and a virtual challenge created by P&G where there were questions on technology, business management, business and innovation.

What has the stay in Greece consisted of?
My stay in Greece lasted 5 and a half days. The stay was not only for the competition but also to reward the 24 finalists with a lot of learning, fun and professional improvement. Each day we had a real business case - 4 in total - where our role as "IT Solution Managers" was to apply technology to provide viable solutions. We tried to simulate the real functioning of a company like P&G where the IT department has to work together with the other departments. We were divided into 4 teams of 6 people (each of different nationalities) and we were given between 2 and 3 hours to solve it. At the end of each case, the team had to present the project to the management and try to convince them to invest in it. 
What flavor do you come back with?
One of the best experiences I have ever had in my life. The professional learning was obvious, but everything I learned in such a diverse, challenging and unique experience was priceless. First, I had never worked in such an international environment where everyone has different perspectives on life. In our team of 6 alone there was a Russian, a Polish, a Turkish, a Greek and an Italian. The biggest challenge was to get the best out of everyone in just 4 days without having met each other before and not having enough trust. For me, understanding the importance of teamwork, the challenges involved, the motivation of each other and understanding each member of the group was the most valuable part of the trip.