News

LATEST NEWS AND EVENTS FROM THE SCHOOL OF ENGINEERING
"The pandemic has not stopped us, and we have managed to get almost all the students to find a company to do their bachelor's or master's degree project".
The External Relations Department of Tecnun has continued to organize activities this year, supported by digital media.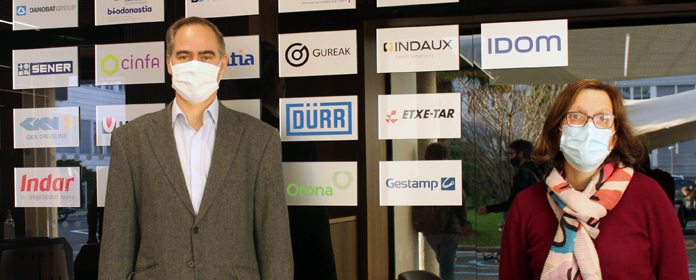 Javier Ganuza and Eli Urcelay, in charge of the External Relations Department at Tecnun
PHOTO: Communication Service
The coronavirus crisis has not stopped the External Relations service of TecnunThe service has continued to organize activities during this year 2020, supported by digital media, but also maintaining the presence of the events when possible. This is highlighted by the heads of the service, Eli Urcelay and director Javier Ganuza.
Approximately how many events has the Foreign Service organized throughout 2020?
Shortly before the March confinement we had the usual Employment Forum at the end of February with the participation of 97 companies, but before that, in mid-January, the first meeting of companies and Master's students took place for interviews aimed at Final Master's Projects and first employment. This year this meeting has been brought forward to December, and 42 companies have participated, with the novelty that the students of the Master in Industrial Engineering in Madrid have also participated. In addition, in October we held a specific employment forum for Consulting and Banking, also virtual. On the other hand, we have had online sessions with several companies such as BCG, Oliver Wyman, McKinsey, Amazon, Repsol, Altran or Google.
Could it be said that the pandemic has not stopped you?
In fact, we kept in contact with the students and companies at all times and we managed to find a company for almost all the students to do their final degree/master's project. In some cases the confinement stopped the Final Degree or Master's Project internships, but as soon as it was possible, they were resumed. What we miss is that the students did internships during the summer, something that, except for a few occasions, could not be done.
Has the format of the events tended more towards digital rather than face-to-face?
Yes, that's right. In fact, the events we have organized since March 2020 are practically all virtual, with the exception of preparation sessions for students organized by Career Services and a few companies that came to interview Master's students last week, such as Danobat and GKN. We think it is better and we bet for the presence but the option of remote presentations and interviews also has the advantage of reaching companies that due to travel/budget issues would not have participated in person in this meeting and if it is remotely they can do it.
Apart from that, have you adapted well to the new situation?
We are adapting, but, although now the events are being held remotely, our commitment is to return to face-to-face meetings whenever possible. Human contact cannot be lost. We are aware that online events have some advantages and we are having the opportunity to experiment with this model. The Pamplona Career Services service is also offering Virtual Fairs and Employment platforms that are additional opportunities to those organized by our service from Tecnun.
What is the forecast for next year? Do you already have closed events for the next four months? We still need to set the dates, but we have already arranged for January 2021 presentations by AMAZON, BANCO SANTANDER, ROCHE and MICHAEL PAGE in Madrid on job interviews. Also in February we will have preparation sessions prior to the Employment Forum for students to learn how to prepare their CV, interviews, etc. as well as other company presentations to be determined.
How does the Employment Forum at Tecnun look like for this year?
It is not definitive yet, but we are thinking of a combination, probably one day will be with companies in person and another virtual, as there are companies that have advanced us that are interested in the forum but that by company policy are prohibited from attending in person throughout 2021.
What challenges does your service face in the coming year?
Continue to expand our network of contacts with companies, especially in Madrid, as well as in the field of Biomedical Engineering. Also recently the University has changed the Employment and Internships platform and we have to become proficient with it. And of course, help students to get the most out of it.