News

LATEST NEWS AND EVENTS FROM THE SCHOOL OF ENGINEERING
Back to 2019_03_18_noticia_TECNUN-dia-patron-2019
patron saint Day at Tecnun
The Colegio Mayor Jaizkibel wins the award for the best txiringuito while the Ecuadorian stand stands out for the best pintxo.
The Day of the patron saint began with a mass at sports center, celebrated by D. Toché Marín and D.Emilio Fuertes, and accompanied by the singing of some members of the Choir of the School of Engineers. Afterwards, the most sporty students participated in different pimpón, basketball and futbito tournaments.
The cultural richness of campus has been savored in the pintxos exposed outside the Igara Building, in which Andalusian colleagues have brought as star dish the 'serranito'. The Valencians and Catalans have honored the tradition and have returned, another year, with a paella whose success has forced them to cook up to 6 times, having even waiting list. From the other side of the pond has come the spicy hand of Mexican students; Latin and Venezuelan beach bars have surprised with their pintxo of ceviche, and the group Euskal Kultur Taldea of Tecnun has sold talos of txistorra.
As happens every year, a jury has evaluated the gastronomic quality, customer service, decoration and the care that the chiringuitos have taken of the environment.
Ignacio Villameriel, from the Communication Service of Tecnun, and the journalist and friend, Jorge Napal , have been in charge of scoring. According to the jury, Ecuador stood out for its ceviche pintxo, while Colegio Mayor Jaizkibel won the award for the best txiringuito. "You could tell that they had been working hard, and that the pintxo was elaborate," Napal recounted after tasting the Ecuadorian offer. "The attention of the girls at Colegio Mayor and the presentation of the pintxos made us choose them as the best txiringuito", acknowledges Villameriel. In addition, the funds from this stand will go to collaborate with the NGO "High five for Venezuela" and, "this is something that has influenced the deliberation," says Napal with a smile.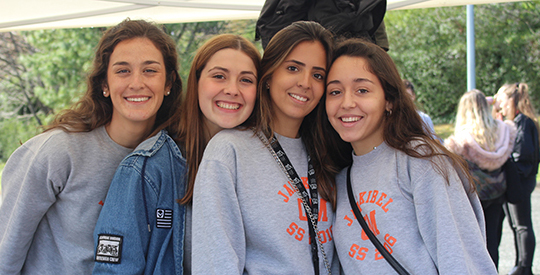 The Festival has culminated with the submission of awards, which has been energized by the director of development, Iñigo Gutiérrez. Josetxo Eciolaza and Xabier Zuriarrain were the champions of the Mus tournament. Markel Azpiroz , Pablo Eguiguren and David Blanco won the 3x3 Basketball and the Manchester Unated team took first place in the internal soccer tournament. 
Meanwhile, music accompanied the verdict and some students energized the workshop, at the microphone, joking and enjoying themselves in a relaxed atmosphere.
Browse the flickr photo gallery