News

LATEST NEWS AND EVENTS FROM THE SCHOOL OF ENGINEERING
Back to 23-01-19_tecnun-presen-concierto
Students from Tecnun present the 14th edition of the Youth Solidarity Concert
Organized by Colegio Mayor Ayete and starring the Orfeón Donostiarra and Musikene, it will take place on February 4 at the Kursaal.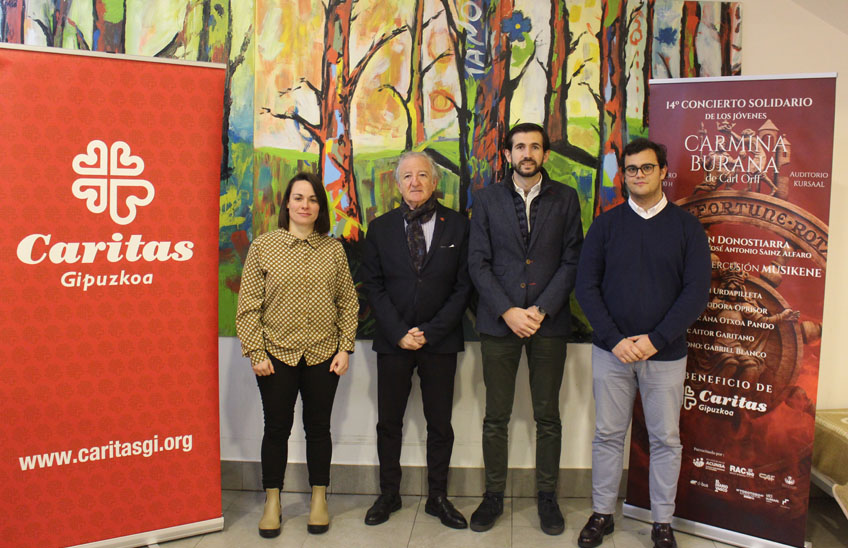 The Colegio Mayor Ayete has presented the 14th edition of the Youth Solidarity Concert. With the Orfeón Donostiarra and Musikene, it will take place next February 4, Friday, at 1900h, at the Kursaal, for the benefit of Caritas Gipuzkoa.
This social action, which is organized by the university students from Tecnun and residents of Colegio Mayor Ayete, has as goal to help the area Caritas Gipuzkoa's Homeless Shelter. Specifically, the funds will go to Hotzaldi, project which is in charge of night shelter for homeless people accommodation and whose aim is to offer decent conditions of accommodation .
The director of Cáritas Gipuzkoa, José Ramón Aramendiexpressed his gratitude for the "submission of the people of Gipuzkoa": "I have spent ten years as director, ten years giving thanks and in which I have seen many students who, with enthusiasm, fill the auditorium and surprise us with spectacular concerts", he said. He has also appealed to the young people of the city. "It is a concert of them and for them and we want to convey that we have great need and the doors open every day of the year".
The director of Colegio Mayor Ayete, Julio Herrero, emphasized the social, cultural and collegial purpose of this concert. "financial aid for young people to get involved with people who suffer and reach out to other young people, and in addition to the learning that it means for a university student to lead the organization of a concert, we want to contribute our bit to the culture of San Sebastian," he explained. On this occasion, the Orfeón Donostiarra and the Musikene percussion group will perform the work "Carmina Burana", which 80 years after it was composed, continues to sound in the most renowned halls in the world. The event will be conducted by José Antonio Sainz Alfaro and with Jon Urdapilleta and Teodora Oprisor at the piano.
"The concert awakens a sensitivity that financial aid us to get closer to the forgotten people", expressed the student of Tecnun and organizer of the concert, Jesus Olmedilla.  The engineering student has expressed that they organize it with "great effort" and with the illusion of making society aware of the situations of "inequality", as well as helping to cover some of Hotzaldi's needs..
Ainara Garcíahead of Hotzaldi, thanked for the work to carry out the initiative and at specialization program for the "warmth" provided by the volunteers accompanying people at status in the street, "without shelter" and "without a family to turn to".
Noteworthy is the sponsorship of ACUNSA, the RAC Vasco Navarro and CAF. Tickets cost 20 and 25 euros and are available on the web or at locker of the Kursaal, as well as at Colegio Mayor Ayete. There is also a zero row.
Tickets can be purchased at this link.