News

LATEST NEWS AND EVENTS FROM THE SCHOOL OF ENGINEERING
Resilience and crisis management
Leire Labaka: "it is vital to create networks of resilient cities and towns capable of dealing with crises and adapting to them effectively. It is a quality that can be worked on".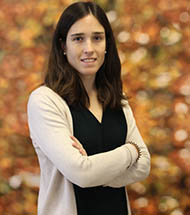 Leire Labaka
PHOTO: Communication Service
Leire Labaka, professor of the Department of Industrial Organization at Tecnun, has recently published the following article on resilience and crisis management in the journal Nuestro Tiempomagazine, which we now share in its entirety.
Resilience is a fashionable concept used in fields as diverse as the environment, psychology, business, engineering and crisis management. But what does it mean? Some define it as the capacity of a system to absorb a disturbance and return to an initial state. Others point to the ability of a system to adapt to the changes that occur on a daily basis and improve on the starting point.
While the first meaning focuses on fixed systems that do not allow their state to vary, the second is oriented towards living and dynamic systems. Within the latter is the concept of resilience, which is used in the field of crisis management. Crises can be the consequence of sudden and very strong events that endanger human lives and the welfare of society, such as natural disasters. Climate change, for example, is a threat that grows over time until it becomes a catastrophe. High carbon dioxide emissions into the atmosphere, together with other factors, are causing the global temperature of the planet to rise, weather patterns to change and the risk of drought or flooding to increase.
All of the above cases may be somewhat predictable and, therefore, it is easier to take measures to deal with them. However, sometimes events are not predictable or evolve in unexpected ways. In the 2011 Japan earthquake and subsequent Fukushima nuclear accident, no one anticipated the magnitude of the tsunami and all safety procedures failed. In such a situation, having resilient systems in place makes it possible to adapt to the situation and respond efficiently.
In 2000, a lightning strike caused a fire at one of the factories of Philips, a supplier to Nokia and Ericsson. Initially it was estimated that the situation would be back to normal within a week. Nokia quickly realized the difficulties involved and, in addition to pressuring Philips to move capacity to plants in Germany and China, negotiated with other suppliers. In this way, Nokia not only met its production targets, but also increased its share of the mobile market thanks to its competitor's struggles. Ericsson, without a plan B, announced losses of almost two and a half million dollars.
That is why it is vital to create networks of resilient cities and towns - with resilient citizens, governments, infrastructures and companies - capable of dealing with crises and adapting to them effectively. It is a quality that can be worked on. Several scientific studies, research projects and doctoral theses study the concept of resilience and how it can be promoted and improved.
According to the smart Mature resilience project [supported by the European Commission and developed by a consortium of which Tecnun is part], resilience is mainly characterized by four dimensions: leadership and governance, preparedness, infrastructure and resources, and cooperation. Leadership and governance refer to the level of commitment and empowerment of authorities to put in place measures and mature plans to increase the city's awareness and level of resilience. 
Preparedness brings together training and learning activities prior to a crisis. The availability of resources is critical to have a robust and secure infrastructure and to prepare citizens adequately to respond to the event. Finally, good cooperation among all those involved in crisis management is essential. In addition, there is a need to establish agreements with external actors from other cities or nations to ensure their assistance in the event of a catastrophe. In a changing world like today's, it will be those who adapt best to change, the most resilient, who will endure in the future.