News

LATEST NEWS AND EVENTS FROM THE SCHOOL OF ENGINEERING
The University, first in Spain according to the QS Employability Ranking
The QS Graduate Employability Ranking 2020 has ranked the university as the best in Spain in terms of employability for the fourth time in a row.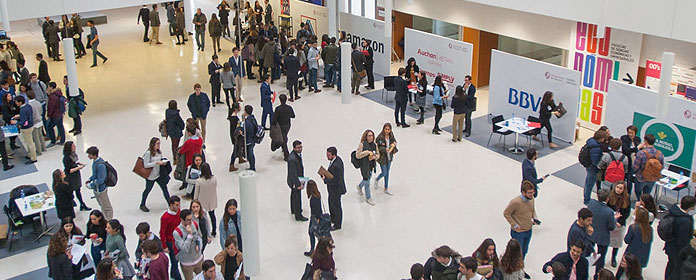 The University of Navarra is the first university in Spain in terms of employability, according to the 2020 edition of the QS Graduate Employability Ranking, and this is the fourth year it has achieved this. According to this ranking, the university is in 71st place overall among all the universities analysed.
The Quacquarelli Symonds (QS) employability ranking has classified more than 750 universities in 73 countries in this year's edition. In Spain, the seventh country with the best results, 15 universities pass the minimum cut-off and four are among the top 100 universities in the world: University of Navarra (71st), Polytechnic University of Madrid (79th), University of Barcelona (80th) and Complutense University (94th).
To rank universities, QS looks at five different areas: student employability ratio (10%), university agreements with employers (25%), reputation among employers (30%), alumni outcomes (25%) and employer-student connections (10%).
The University of Navarra stands out especially for its reputation among employers and for the opportunities for students to come into contact with companies at the university. In both indicators, the University of Navarra ranks first in Spain. In fact, this academic year the centre has grown especially in terms of employer reputation (2.6%), an indicator based on the opinion of almost 45,000 executives from all over the world.
According to the Director of Career Services, Roberto Cabezas, "the results of this ranking reflect the University's firm commitment to the transfer of our talent to society". According to the director of this service, in charge of employability at the University of Navarra, "companies value, in addition to academics, the University's special concern for humanistic training. There are many companies looking for talent, but the best ones want to find good people. That is why we take care to offer our students and alumni the best tools and opportunities for their professional development".