News

LATEST NEWS AND EVENTS FROM THE SCHOOL OF ENGINEERING
Tecnun academic year master's degree program starts with more than 400 students
The School awards during the Opening Ceremony to three engineers from San Sebastian for the social impact of their doctoral theses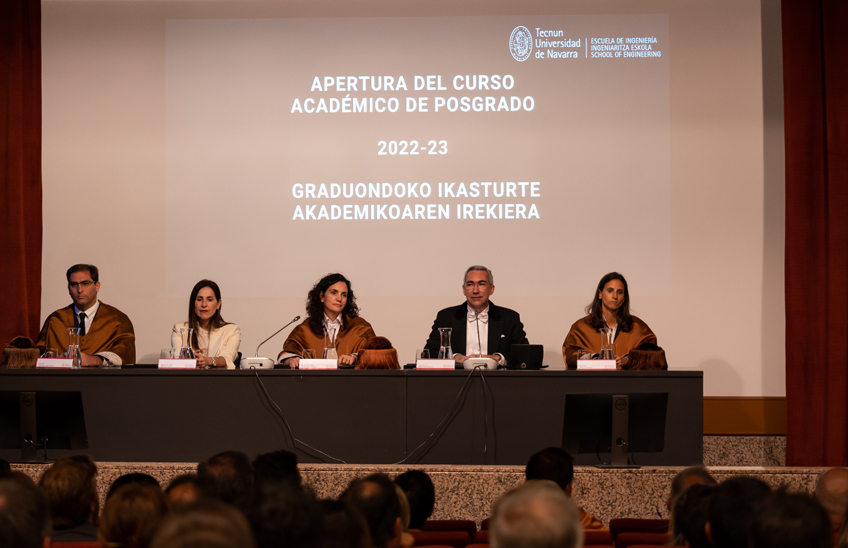 Tecnunthe School of Engineering of the University of Navarra, celebrated today the Graduate Academic official opening of the academic year with more than 400 master's degree students. The postgraduate students are distributed among the six master's degrees offered by Tecnun at its headquarters in San Sebastian and at campus in Madrid. 
In his speech, the School's director , Raúl Antón, pointed out that Tecnun "aspires to a research open to the needs of society and institutions, involved in that great collective challenge which is to seek ways for a deeply human development and capable of making innovative proposals".
Along the same lines, the General Director of the Mubil Foundation, Ane Insausti, who delivered the inaugural lecture, pointed out that it is important that training and research in technical careers be aligned with the needs of the productive fabric to ensure competitiveness and social welfare. 
attendance It should be noted that the event was attended by the President of the Basque Parliament, Bakartxo Tejeria, the Regional Deputy for Economic Promotion, Tourism and Rural Environment, Jabier Larrañaga; the Councilor of the City Council of San Sebastian, Borja Corominas; the subdelegate of the Basque Government, Guillermo Echenique and the Vice President of Research and Sustainability of the University of Navarra, Paloma Grau.
Throughout the workshop the Extraordinary Doctorate Awards were presented to Fermín Rodríguez, Imanol Granada and Beñat Elduayen from Guipuzcoa.