News

LATEST NEWS AND EVENTS FROM THE SCHOOL OF ENGINEERING
Back to 2020_11_19_ranking-empleabilidad-2020
The University, 45th in the world in employability according to Emerging's ranking for Times Higher Education
The University is second in Spain and one of the two Spanish universities in the top 100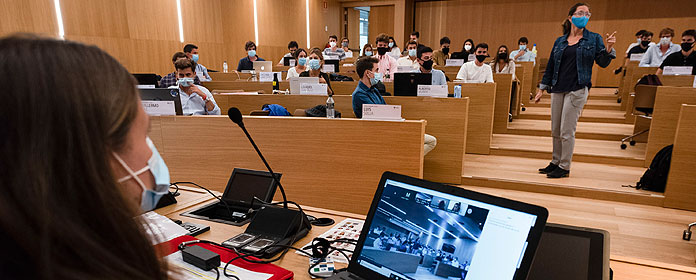 educational activity for job search, organized by Career Services of the University of Navarra on September 30, 2020.
PHOTO: Manuel Castells
The University of Navarra is ranked issue 45th in the world in employability, according to the Global University Employability Ranking, published by Times Higher Education and prepared by the consulting firm Emerging. The ranking reflects the opinion of more than 9,000 managers of companies that recruit internationally, from 22 countries and from almost all economic sectors. The ranking, which evaluates 250 universities, considers the University of Navarra to be second in Spain in terms of employability.
According to the consulting firm Emerging, employability has become fundamental in analyzing the Education university. Employers, according to the consulting firm, are demanding that universities train graduates who are ready to work from the very first minute. Some 82% of those interviewed consider that collaboration between the company and the university system should be strengthened. In this regard, the University of Navarra's service in charge of graduate employment, Career Services, had more than 2,333 agreements with companies in the 2018-2019 academic year, in addition to organizing more than 482 meetings between its students and companies in their sectors. These data earned the University first place in Spain in the other major global ranking of Employability, by QS, where it was ranked 71st in the world.
The emergence of COVID-19 has led parents and prospective students to look with greater interest for universities that guarantee maximum employability for their graduates, according to the French consulting firm. As Career Services' director , Roberto Cabezas, points out, "in the last five years, we have increased by 93.94% the employment opportunities offered by the University to its students".
According to Roberto Cabezas, to improve the employability of graduates from the University of Navarra, now recognized by the Emerging ranking, "we focus our efforts on four fundamental aspects: offering more and better recruitment opportunities to our students and graduates; dedicating more time to staff and specialized counseling; promoting training programs to take the first steps in the world of work; and closely attending to the needs and demands of collaborating companies".
Spain, twelfth in the world
Seven Spanish universities have managed to appear in this ranking. Of these, four are among the top 150: IE University (25), the University of Navarra (45), the Autonomous University of Barcelona (133) and the Autonomous University of Madrid (149). With these results, Spain ranks twelfth in the world, tied with Sweden. The ranking is headed by the United States (51), France (18), Germany (17) and the United Kingdom (14). According to the ranking, the universities with the highest employability in the world are the California Institute of Technology, the Massachusetts Institute of Technology, Harvard University, Cambridge University and Oxford University.