News

LATEST NEWS AND EVENTS FROM THE SCHOOL OF ENGINEERING
Don Emilio Fuertes, chaplain of Tecnun, writes the following article on the occasion of the Christmas season
"I understand. It's too vague for words. No, the other way round. It is words that are too vague. Reality cannot be expressed with properties because it is something too concrete for language". C.S. Lewis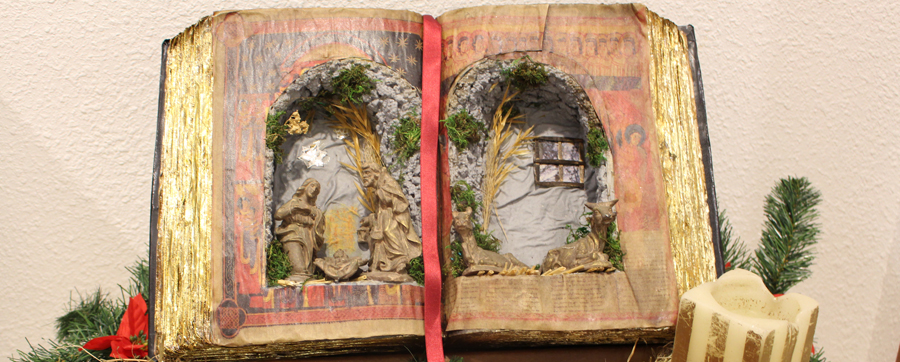 Image of one of the Nativity Scenes of Tecnun
PHOTO: Communication Service
C.S. Lewis recounts in his autobiography how, after his years of atheism and agnosticism, and his constant contact with ancient mythological literature and medieval sagas, he found himself confronted with the Gospels. The literary training he had already acquired prevented him from considering the Gospels as mere myths. They had no mythical taste," he writes. And yet the very subject which they narrate in a historical and unartistic way was precisely the subject of the great myths. If ever a myth had come true, if a myth had become flesh, it would be exactly like the Gospels". He noted that there was nothing like the Gospels in all literature, and, in a way and at the same time, all myths resembled them.
That is precisely what Christmas is: the greatest of all myths, the foundation of all sagas, is a real event, it has taken place. Christmas recalls the moment when the eternal and infinite God has penetrated the world and time.
There are realities so profound and grandiose that, if they are put into words, they are inevitably impoverished. Hence the story, the myth and the legend, which is a way of expressing in greater depth the ineffable (which cannot be spoken, literally).
Words are too vague, too poor, too limited, to express a religious truth as dazzling and at the same time as simple as this: "God so loved the world that he gave his only begotten Son".
The story of the Nativity of Jesus could not be simpler. Even simple. The writer - Luke - offers a narrative without poetry, without adjectives, without rhetoric... And in its surprising simplicity it touches and affects those who approach these words without preconceived ideas. And it moves because this narration has the flavour of the true, of the real, and fits in with the inner longings of all people. It is disturbing because both Augustus and Cyrinus are well-known historical figures in ancient history. It invites us to dwell on these events because the geography in which they take place is very specific (Nazareth and Bethlehem are cities we can visit today). And it is moving because the writer limits himself to saying what he knows, without adding anything, even though he knows that he is narrating a necessary impossibility.
This is the crucial moment: It happened in those days that a decree went out from the Emperor Augustus, ordering that the whole empire should be registered. This first census took place when Quirinius was governor of Syria. And they all went to register, each to his own city. Joseph also, being of the house and family of David, went up from the city of Nazareth in Galilee to the city of David, which is called Bethlehem in Judea, to register with his wife Mary, who was with child. And it came to pass, while they were there, that the time came for her to be delivered, and she gave birth to her firstborn son, and wrapped him in swaddling clothes, and laid him in a manger, because there was no room for them in the inn.
Lewis was disturbed, shocked, by these words, indeed by all the Gospels. All his accumulated literary erudition about epics, sagas, myths and legends had its application here, and at the same time he knew, he was certain, that this was not a mythical, legendary text, the fruit of oral traditions lost in the mists of history. And he was "surprised by joy" (title of his autobiography, Surprised by joy).
The Christmas celebration starts from this surprise. The very word - Christmas - already awakens joy. But it is a joy with solid foundations. Such is the astonishment of knowing that the ineffable has taken place, that joy overflows. It is a celebration that rests on very firm foundations. The gifts, the good treatment, the friendly atmosphere of these days come from that first Nativity, from the Nativity par excellence. If at other times in history it has been necessary to rescue Christmas from an aura of sadness, in the 21st century it is perhaps necessary to rescue it from frivolity, from the voluntarist attempt to rejoice without a reason to be joyful.
Christmas does have a foundation. We are surprised by the joy of knowing that the Cosmos is not an inhospitable, admirable, grandiose but cold and terrible place... The Cosmos is a home because God has become man, has entered into time, has bent over the creature until he is on the same level as him, until he is a Child that can be embraced.