News

LATEST NEWS AND EVENTS FROM THE SCHOOL OF ENGINEERING
Meeting with companies for Master's students
They have participated in interviews with partner companies of Tecnun who are looking for master engineers.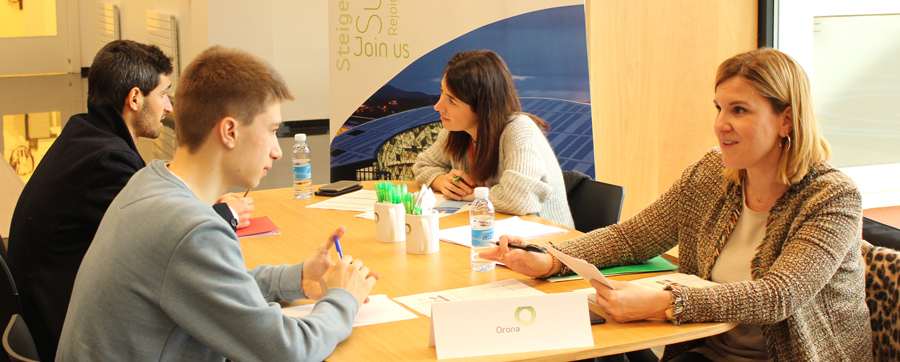 Master students from Tecnun during one of the interviews with companies.
PHOTO: Communication Service
On Thursday 16 and Friday 17 January, the Master's students from Tecnun participated in interviews with companies collaborating with the School that are looking for postgraduate engineers. This meeting was organised exclusively for the students of the master's degree at Tecnun, who participated in interviews in which they were able to identify job opportunities in these companies.
The companies have presented the students with specific job offers through the University of Navarra's employment portal and the students have applied for the offers they were interested in.
During the days that this Meeting with Companies was held, the Master's students had individual interviews to apply for the different positions offered. A total of 14 companies have visited Tecnun, divided into 7 each day: ANGULAS AGUINAGA, CAF, DANOBAT, GKN, GUREAK, I68, IRIZAR, KIRO GRIFOLS, OPE CONSULTORES, ORONA, SALTO SYSTEMS, SARRALLE, STT and BIELE.
From the latter company, Agosti Aranburu, Director of Automatics in Biele, was at the School, who highlighted that "the interviews we have done have seemed very interesting to us due to the profile of the students. As far as the organisation of the Meeting is concerned, everything is very well organised and we would like to highlight, above all, the mutual interest that we have seen between the students of Tecnun and Biele". For his part, the Head of Industry 4.0 at Biele, Iñigo Fuente, stated that "we are looking for someone who is open, who can easily relate to other colleagues and who knows how to get people involved".
Two of the students who attended the meeting were also delighted with this opportunity offered by Tecnun. Carla Bustamante, a student on the Master's in Industrial Engineering, pointed out that "this type of event is not usually offered by all universities and it is something we have to thank Tecnunfor". Her colleague on the Master's in Industrial Engineering, Jon Mikel Arin, stressed that "what this event has given me is the chance to have direct contact with companies, to get to know them a little better and, of course, for them to get to know us".
For his part, the organiser of this meeting, Javier Ganuza, director of external relations at Tecnun, expressed his satisfaction at the participation of students and companies in this event, pointing out that "this is the first year that we have had this initiative and we consider it to have been a success, we believe that we must continue to promote meeting points between students and companies".