News

LATEST NEWS AND EVENTS FROM THE SCHOOL OF ENGINEERING
Back to 23_03_21_tecnun_Chismarracos
"The work we have chosen from Chismarracos brings you closer to a mixture of very different worlds."
The directors of the theater group Estibaliz Ortega and Manuel Álvarez explain the play "Maribel y la extraña familia".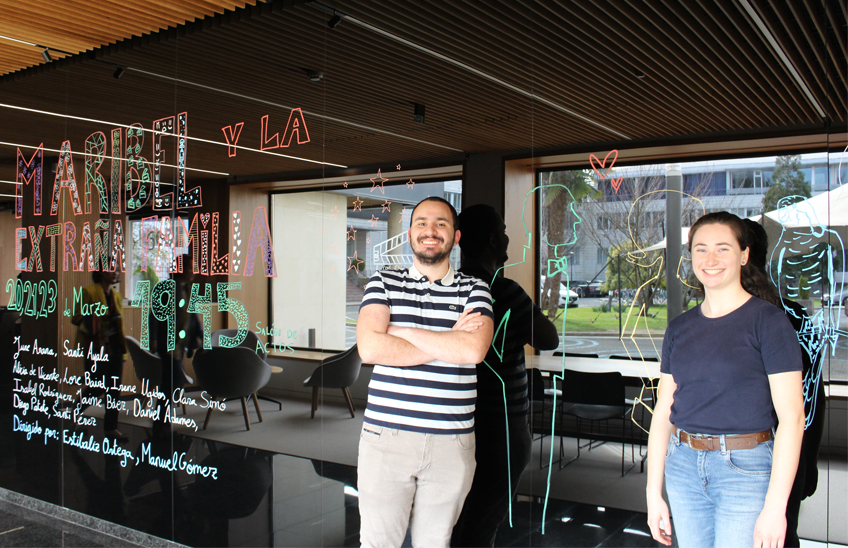 The students of the theater group Chismarracos will return to the stage today, Tuesday 21, and on Thursday, March 23to perform the play "Maribel and the strange family" which they have been rehearsing since January. "Monday's performance, as the first day, was spectacular. The kids did a great job", says the Venezuelan director and 4th year Biomedical Engineering student, Manuel Álvarez.
"The play is about a girl who meets a strange family that comes from very different worlds," says Estibaliz Ortega, who is also the director and a 4th year Biomedical Engineering student from Vitoria. That's as far as you can read, but it is clear that the message of the work and the quality of the artists will not leave anyone indifferent.
Behind the curtain
The directors tell what is behind Chismarracos. Estibaliz Ortega and Manuel Álvarez wanted to tell what is behind this university theater group. Although they don't start rehearsing the play until the second semester , long before that they warm up with other activities to "get rid of stage fright and get to know each other better", as Estibaliz acknowledges, "All these games and dynamics help them to improve their skill with their bodies", continues Manuel Álvarez. The core topic, they say, is that the students and actors get used to handling themselves through improvisation.
She did theater in elementary school and decided to "try it out" in her first year of college. Manuel, who also has experience on stage, liked the idea of having fun and meeting new people, although he took on the adventure of chismas last year. Estibaliz is clear that she prefers acting to directing. "It's very cool and fun, but it's easier to act. Directing is hard because you have a lot of responsibility. You have a group of people who will come to you in case of doubts. Since you care about them and you care about the play, and you want to do it well, it's more complicated," he explains. For his part, Manuel emphasizes how fulfilling it is to have control and creative vision of the work.
"It's very nice to see how a friendship is created between people who didn't know each other."
The evolution of the play has gone hand in hand with the fluency of the team members. Both speak of chismas as a group of friends who act to have fun and make the audience enjoy themselves. "The team knew each other from before and they greeted each other, but you didn't see them together. As we have been doing the play, friendships have been forged and that financial aid much, because you see that the way they react is much more real and there is little pretending, "acknowledges the student. "It is very nice to see how a friendship is created between people who did not know each other. And that, as directors, is very noticeable," Estibaliz concludes.