News

LATEST NEWS AND EVENTS FROM THE SCHOOL OF ENGINEERING
University ranked 40th in the world for employability according to the Times Higher Education Emerging rankings
The University has climbed 10 places compared to last year's edition.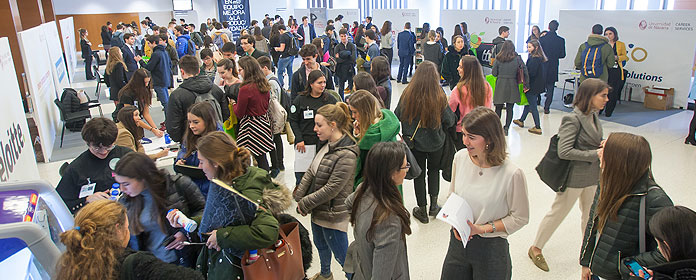 Students and companies interact in different activities, including the Career Forum, such as the one organised in the Friends of the University Building in 2019.
PHOTO: Manuel Castells
The University of Navarra is ranked 40th in the world in terms of employability, according to the Global University Employability Ranking by HR Consultancy Emerging, published exclusively by Times Higher Education. With this result, the University of Navarra climbs 10 places compared to the previous edition, in which it was ranked 50th, and confirms a progressive rise from 66th place three years ago.
Among the 150 best universities in the world are three Spanish universities: IE University, ranked 23rd, the University of Navarra, 40th, and the Autonomous University of Barcelona, 136th. Also in the ranking are the Complutense University (189th), Ramón Llull University (194th) and Pompeu Fabra University (235th).
The ranking, now in its ninth edition, is the only one based on interviews with more than 8,000 international managers from employing companies in 23 countries, who cast more than 91,000 votes. More than 33 countries are represented in the ranking, with the United States contributing the most universities (29), followed by Germany (14), France (13) and the United Kingdom (10). At the top of the ranking are Anglo-Saxon universities such as Harvard, Caltech, MIT, Cambridge and Stanford.
The University of Navarra, a "rising star", according to Emerging
The Emerging consultancy has highlighted the performance of the University of Navarra as one of the most outstanding centres in Europe and classifies it as a "rising star". It has also highlighted "its steady rise in the ranking" in recent years.
According to this consultancy firm, employability has become a strategic objective for universities around the world. According to Emerging, the university system must train graduates who are digitally prepared, with social skills, a scientific mentality and what are known as soft skills, centred on the ability to empathise, work in teams and reason with others.
According to Roberto Cabezas, Director of Career Services at the University, "this position, which we appreciate and value, is the result, firstly, of the quality of our students and alumni, and their high capacity to contribute to the professional development of their working environment. It reinforces our ongoing commitment to the transfer of talent to society, and also to excellence in meeting the recruiting needs and demands of the national and international companies that place their trust in our University".