News

LATEST NEWS AND EVENTS FROM THE SCHOOL OF ENGINEERING
Back to 22_02_22_tecnun_donosti_cup
Donosti Cup: illusion and learning in a successful project
The director of Donosti Eventos, Íñigo Olaizola, gave a session to the students of the Sports Talent program.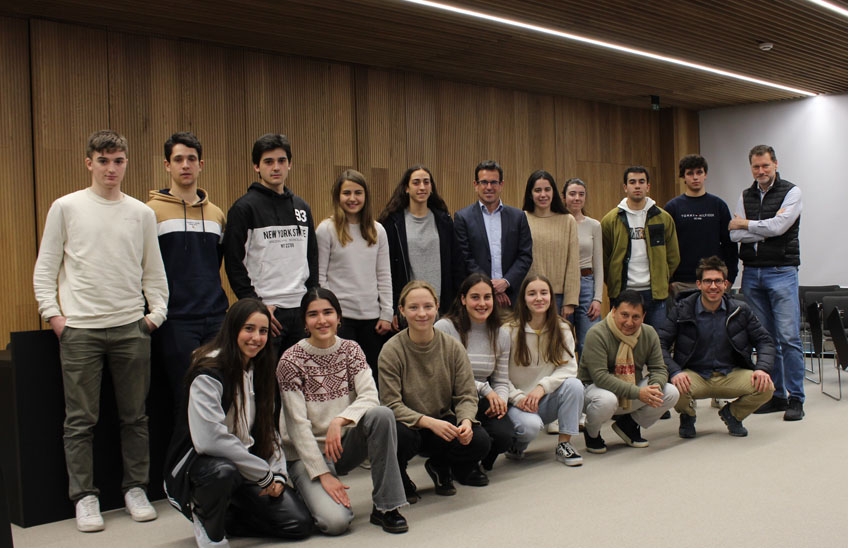 Under the title "Creation and development of a sporting event", last February 21, the director of Donosti Eventos and promoter of the Donosti CupIñigo Olaizola, gave a session to the students of the program "Sports Talent". Sports Talent program of Tecnunwhose goal was to show a different perspective of sport. In the session, also followed remotely from the campus in Pamplona, and which was attended by fifty students, Olaizola made a vital and professional journey in which he showed how, having graduate in Geography and History and working as a teacher in several schools, he combined this task with the creation of a sports agency more than 32 years ago. 
In an apartment in Amara Viejo, together with another colleague, they began to organize trips to international tournaments taking place in Europe. "All the teams came back talking phenomenally about the experience, and we thought that what we had to do was to get teams from abroad to come here, taking advantage of the attraction that San Sebastian has," he said. With that starting premise, the first edition of the Donosti Cup took place in 1992: "We thought that the year was very good, because it coincided with a very sporting atmosphere at a general level, it was the year of the Olympic Games in Barcelona". However, they did not get the date right "we wanted to do it coinciding with the Semana Grande because we thought that the atmosphere would help and accompany the event, without realizing the chaos that it would mean from the point of view of accommodation, for example". 
The initial years, "with their successes and mistakes", were of great learning that led them to have to adjust, order, establish priorities and plan, since at the beginning they worked "almost by impulse, by intuition, and with few means". "It was a start with a lot of illusion, with enthusiasm, with many mistakes and lessons learned. After the first edition, it was time to analyze, correct and think of new strategies to give greater visibility to the event and achieve greater participation, "we managed to get the youth teams of Real, Athletic and Osasuna to come and play in the tournament, and that was a clear boost from the point of view of visibility". 
More than three decades have passed, in which teams from more than 70 countries have visited San Sebastian and in which the tournament has been growing from the point of view of resources and participation, going from 4 initial categories to 16 at present. Likewise, the tournament has been integrating values such as gender equality, solidarity and inclusiveness. In this year's edition, which will take place between July 3 and 9, there are 750 teams registered, ranging in age from 9 to 25 years, from very different backgrounds. However, both with this event and with the rest that they manage from Donosti Eventos, such as the San Sebastian Marathon, which they entered last year, in its 44th edition, they are very clear that they do not want to make the mistake of growing beyond the possibilities, "it is important to ensure the highest quality of the event, and, if it is an event that already exists previously, to be able to provide a added value", said Olaizola. 
Sports talent program
The Sports Talent Program is an initiative of the Olympic Studies Center of the University of Navarra, which aims at the integral formation of competitive athletes, providing them with the necessary support so that they can combine their studies with sports practice.It aims at the integral formation of competitive athletes, providing them with the necessary support so that they can combine their studies with their sports practice. 
This year, Tecnun has 22 students in the program, who practice different sports disciplines, such as boxing, rugby, ice hockey, motorcycling, rhythmic gymnastics, volleyball, rowing, soccer, alpine skiing, handball, figure skating on ice, swimming, triathlon, cycling, crossfit, basketball and judo.