News

LATEST NEWS AND EVENTS FROM THE SCHOOL OF ENGINEERING
Back to 2019_03_22_noticia_TECNUN-laureano
Laureano Simón: "It is very important that training continues over a period of time".
The CEO of Patia Diabetes shares his experience with MIB students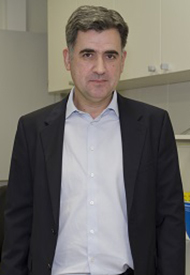 Laureano Simón
PHOTO: Courtesy
Laureano Simón is CEO of Patia Diabetes. Simón began his business career with the creation in 2000 of Progenika Biopharma, S.A. He later founded and was CEO of Oncomatryx. With extensive experience in the clinical diagnostics sector, he has established relationships with numerous pharmaceutical companies. Laureano Simón also acts as advisor in different scientific committees of public institutions and private foundations. He has published numerous articles in high impact scientific journals and has received several awards throughout his professional career, including the award Eurowards European Entrepreneur in 2004, the award Ernst & Young most innovative entrepreneur of the year in 2010 and Ruban d'honneur of the European Business Awards - HSBC Bank in 2011. He has recently been sharing his experience with the students of the Master in Biomedical Engineering at Tecnun.
What did you talk about to the Bio Master students at Tecnun?
I have shared with them my experience in the creation, consideration, and in some cases also destruction of companies in the biotechnology sector, trying that all this knowledge can be useful to them for the work of developing a business plan that they have to carry out, and on the other hand in the development of their professional career later on. 
You started your own company, then sold it, have you passed that experience on to them?
Yes, I am what is known in the sector as a multi-entrepreneur. For example, I founded Progenika back in the day, we sold it, and so I have a long list in the biomedicine sector. Medium-sized companies that are very agile and where innovation is the driving force behind decision-making. 
What would you highlight about the Master in Biomedical Engineering at Tecnun?
What I have learned about developing a business plan based on real projects that already exist and that this plan can be useful to those who have these projects seems fantastic to me. It seems to me that they are not only going to learn the theory of how to make a business plan but also the reality of what problems you may encounter in developing the plan you have created. 
What can the profile of Tecnun students bring to the business world?
An engineer has a structured head and at the same time has the biomedical knowledge part of creativity, and that can be fabulous for the business world.
Why do you think it is interesting for an engineer to study this Master's degree?
Once you have finished your degree, you should not be in a hurry to enter the job market. It is very important that the training continues over a period of time. And I think this master's degree is a great complement to Degree in Biomedical Engineering.