News

LATEST NEWS AND EVENTS FROM THE SCHOOL OF ENGINEERING
"The project aims to drive a revolution in transport, autonomous vehicles and intelligent highways".
The teacher of Tecnun Ainhoa Rezola has been in Santa Barbara (California) for 10 months.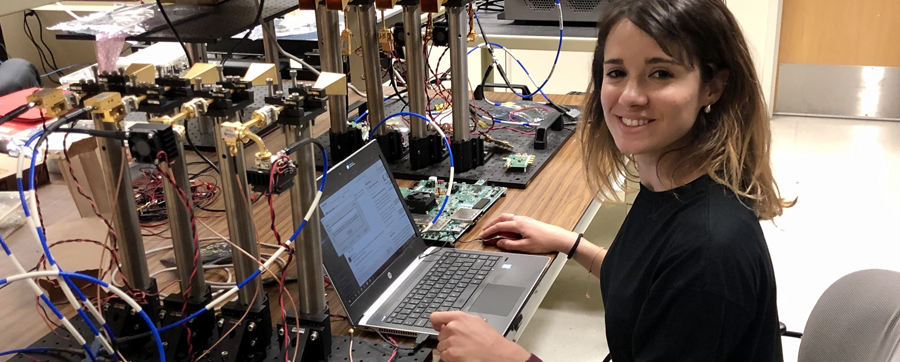 Ainhoa Rezola at work during her stay in the USA.
PHOTO: Communication Service
Ainhoa Rezola , lecturer at Tecnun , has been in Santa Barbara (California) for 10 months, from April 2019 to January 2020. As Ainhoa herself explains, "the University of California at Santa Barbara (UCSB) is one of the 10 public universities that are part of the University of California system.
Specifically, she has been working in the Electrical and Computer Engineering department, in the RF & Mixed-signal Integrated Systems group. "The group is composed of a professor, who is the head of the department, and about 15 doctoral students of different nationalities: Indian, Chinese, American, Egyptian and Iranian," says the professor at Tecnun.
Regarding the work carried out, Rezola points out that the objective of the research project in which he is collaborating is "the development of technologies for future mobile infrastructures using MIMO (Multiple-input Multiple-output). The backhaul network for these infrastructures will be a combination of optical links and Massive MIMO (Massive MIMO) point-to-point links with Tb/s capacities. These mobile links will support centimetre-accurate localisation, complementing GPS".
The project aims to drive a revolution in transport, autonomous vehicles and smart highways. "Broadband car-to-car links will communicate data and measure vehicle locations to centimetre accuracy; they will anticipate and manage interactions to avoid collisions," says Ainhoa. "My work has focused on signal processing for Massive MIMO systems, accurately estimating the large number of channels and reducing the complexity of this estimation with efficient signal processing.
Similarities and differences with Tecnun
UCSB has more than 25,000 students and offers more than 100 degrees. It is a huge campus, which has its own private beach, a lake, sports centre, restaurants, theatres, etc. "The campus is 4.1 km2 in size and the first few days I had to walk around the campus with a map," says Rezola. "Although it sounds very nice, I think that at Tecnun we have the advantage of being able to offer a more personal treatment to our students and this is something that I have valued very much both as a student and as a teacher.
"In terms of the way we work, it is quite similar to that of Tecnun. Every week we meet as a group and you make a Power Point presentation, either of your research progress or the presentation of a conference you are going to attend.
Conclusions of the experience
Spending time abroad is undoubtedly one of the most beneficial experiences for anyone, both personally and professionally. "Professionally, the engineering faculty at UCSB is considered one of the best in the world and I feel very fortunate to be able to collaborate with such good people," says Rezola. "I have been able to learn a lot both from my research project and from the work of my colleagues. I have also had the opportunity to attend some classes in subjects that are not taught at Tecnun, which has also allowed me to see how classes are taught here. On the other hand, these months in the United States have given me the opportunity to improve my English. I think there is no better way to learn a language.
On a personal level, it was not easy for Ainhoa to make the decision to spend 10 months so far from home. "Starting from scratch in a new place with a different language and where you don't know anyone is not always easy. In this sense, it has helped me to get along better outside my comfort zone, to open my mind and to better understand other cultures and ways of life. I think an experience like this tests our ability to adapt to different situations.
On the other hand, the teacher at Tecnun has also had the opportunity to make several trips around California to visit other cities and natural parks and even to travel to other states during holidays and for congresses. "California has many attractions and beautiful places to visit, but we have nothing to envy.
In short, "by belonging to a multicultural group, I have been able to make friends from different countries, which has allowed me to immerse myself in new cultures and go beyond a purely academic experience," concludes Rezola.