News

LATEST NEWS AND EVENTS FROM THE SCHOOL OF ENGINEERING
A team of 'makers' from San Sebastian devise a respirator to avoid collapses in the ICU.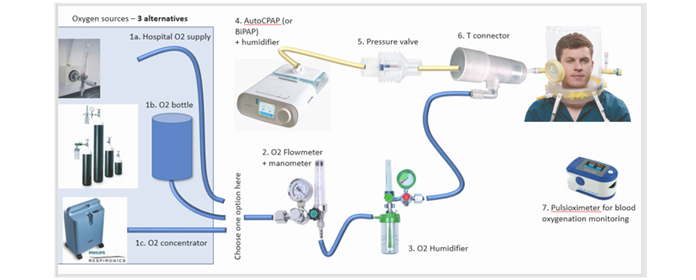 What started with a question of how a simple solution could help all critically ill patients by coronavirus has ended up becoming an almost real project. Concerned about the lack of resources on the part of health personnel and given the pandemic, Adam Podhorski, a biomedical engineer of Polish origin based in San Sebastian, decided a few days ago to do his bit in the fight against the virus that has already claimed the lives of eight thousand people. How? By altruistically sharing his knowledge and experience with a working group that seeks to create artificial respirators with 3D technology. 
Podhorski, professor and researcher at Tecnun, the School of Engineering of the University of Navarra, is immersed with a team of people from different backgrounds and with extensive experience in medicine and biotechnology, 3D printing and industrial design, among other disciplines, and most of them makers, in a project that seeks to to make up for the shortage of respirators in hospitalsone of the main problems being encountered in the Intensive Care Unit services.
"I suffer from apneas and sleep with a sleep machine, so I came up with the idea of adapting them," he admits. No sooner said than done. After talking to the Medical Engineering Laboratory at the University of Navarra's School of Medicine, they came up with the idea of adapting the sleep apnea machines and turning them into alternative ventilators, which could be used to prevent respiratory complications and thus avoid collapses in SICUs. "It is very important to emphasize that they are not a substitute for respirators.. They are just a preliminary aid that could improve patients' symptoms and prevent them from worsening," says the biomedical engineer. 
After extensive documentation work and contact, thanks to the Internet, with professionals from both the health and engineering worlds, his project is now closer to becoming a reality. "We still need doctors to supervise our work and tell us whether it is clinically feasible or not," Podhorski says on the other end of the phone. The proposal on which these researchers are working day and night is both simple and complex.. It consists of putting a kind of helmet on a patient that is connected, on the one hand, to a sleep machine such as an AutoCPAP and, on the other hand, to an oxygen source. Thanks to the use of AutoCPAPs, it is possible to "monitor different parameters and control the pumping of air. For example, if the device notices that the patient is not breathing in air, it gradually pumps it in by increasing the pressure," he explains.
The design has been reviewed by specialists from different countries and fields, and thanks to the suggestions they have received, they have managed to perfect it, but the details still need to be polished. There is no room for error and therefore everything must be controlled to the millimeter.. "Nothing can go wrong because many people's lives are at stake. A machine cannot insufflate air if the patient wants to exhale," he explains, and continues, "There are things that we engineers don't know and that's why we need advice. We have already been in contact with healthcare professionals who have helped us to calculate the exact diameters of the tubes so that the necessary oxygen can be delivered, or with specialists who have warned us of the need for air humidifiers. These are aspects that we had not taken into account at the beginning due to lack of knowledge and that we have now included. Without this information, we would not have known about it. This is a team effort and we all contribute our knowledge," he says. While waiting for the approval of the medical staff, they have already been weaving a network that would be available to start manufacturing the tubes and other parts needed to adapt the machines. "There is a lot of involvement and solidarity," he stresses.
In addition, they have counted on the collaboration of Philips engineersThe company's partners, the manufacturer of AutoCPAPs, and Linde, the company that provides sleep therapy home care, have supported the idea and helped them to simplify processes and eliminate some potentially dangerous elements. "They've done a fantastic job," Podhorski says thankfully.
Reaching the goal won't be easy, especially if they are hampered. Yesterday, Podhorski complains, they were "faced with a problem: the two companies manufacturing helmetsThe key piece for not contaminating the air around the infected patient is in Italy and the Italian government has forbidden the export of any medical material. Is the project sinking us? No way, just yesterday we set up another working group that in 24 hours, and with the advice of Intersurgical, one of the manufacturers, has already come up with a design that has been manufactured tonight and in the next few hours it will be tested".