News

LATEST NEWS AND EVENTS FROM THE SCHOOL OF ENGINEERING
Back to 2020_10_23_TECNUN_Euskaraldia
Tecnun adheres to Euskaraldia' 2020
Euskaraldia 2020 will take place from November 20 to December 4.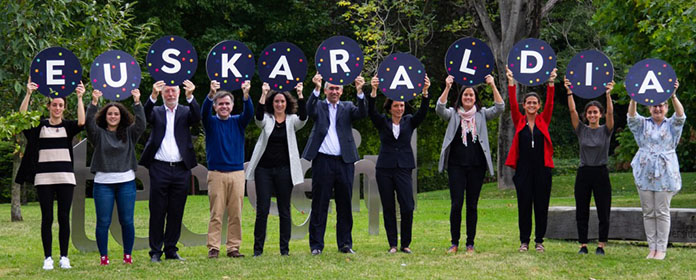 PHOTO: Communication Service
The board Board of Directors of Tecnun and the committee Management of Ceit agreed, in recent meetings, to adhere to this year's edition of the Euskaraldia campaign, created to promote the use of the Basque language in labor relations on a regular basis.
In addition to the Ahobizi and Belarriprest profiles, aimed at promoting the daily use of Basque among people who understand it and others who use it on a daily basis, this year's Euskaraldia incorporates the figure of the arigunes: work environments in which their members use Basque as a vehicle language in their daily lives.
Tecnun and Ceit will incorporate these two ways of participation in order to socially visualize the commitment to the Basque language of the University of Navarra's campus donostiarra, as they did in the last edition held in 2018.
As in the previous edition, those who register will participate in the roles of ahobizi or belarriprest:
AHOBIZI:
You will speak Basque with anyone who understands it. You will speak Basque anywhere, anytime and with anyone who understands.
With those you don't know you will speak Basque for the first time, and if they understand you, you will continue speaking.
BELARRIPREST:
You will invite everyone who knows Basque to speak Basque to you. You will tell them that you understand Basque and ask them to speak Basque with you. You will respond in Basque or Spanish, but you will be asked to respond in Basque.
Employees of Tecnun must register through this link. Registered students and employees of Tecnun can pick up their Ahobizi or Belarriprest badges from October 28 at reception in the Ibaeta building.