News

LATEST NEWS AND EVENTS FROM THE SCHOOL OF ENGINEERING
The Ramón Areces Foundation will finance a University research project in the fight against bone marrow cancer.
The project is developed by Tecnun, Engineering School of the University, with the collaboration of Cima.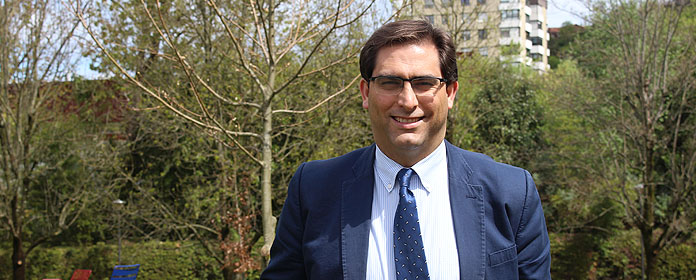 The researcher Francisco Planes.
PHOTO: Courtesy
A University of Navarra project has received 120,000 euros from the Ramón Areces Foundation for research into bone marrow cancer, a disease for which there is currently no cure. The project will be developed over the next three years by Francisco Planes, deputy director of the Department of Biomedical Engineering and Sciences of the School of Engineering and principal investigator of the project, explains that the approved study consists of a personalised medicine programme for multiple myeloma, a type of bone marrow cancer.
"Multiple myeloma is a very heterogeneous cancer and, therefore, the development of personalised medicine programmes is essential. The aim of this research is to exploit metabolic alterations in myeloma patients through mathematical algorithms using genomic and transcriptomic data," says Planes.
"These algorithms have been previously published and validated in Nature Communications and Nature Protocols, and we have the largest and most comprehensive cohort of multiple myeloma patients (COMMPASS) available in the literature," he continues.
In addition, as the expert explains, within the framework of this project, "a set of therapeutic targets and response markers are expected to be identified and in-vitro and in-vivo validation will be carried out". 
42 projects funded
A total of 42 scientific projects will be financed by the Ramón Areces Foundation with 5.2 million euros in the 19th edition of the grants for research in Life and Matter Sciences, with a total of 618 initiatives from centres and universities in Spain having been presented.
The 42 projects, on which 269 researchers will work, will be carried out over the next three years in centres, universities and hospitals in the Community of Madrid, the Valencian Community, Catalonia, Castile and Leon, Andalusia and the Basque Country.
The award ceremony held in Madrid was attended by the President of the Ramón Areces Foundation, Florencio Lasaga; the Secretary of State for Universities, Research, Development and Innovation, Ángeles Heras Caballero, and Federico Mayor Zaragoza, President of the Scientific Council of the Ramón Areces Foundation.