News

LATEST NEWS AND EVENTS FROM THE SCHOOL OF ENGINEERING
Back to 20200925_tecnun_Emma-waltersson
"Both teachers and classmates are very attentive to us"
Emma Waltersson is one of the international students who are in Tecnun this semester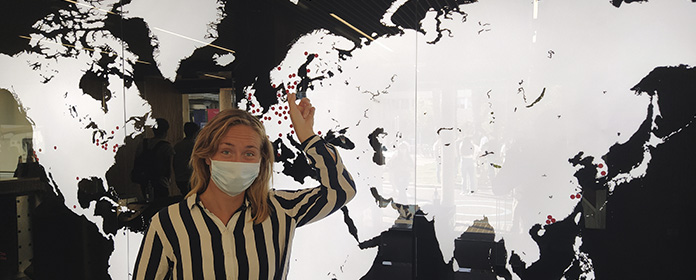 Emma points to her native Sweden, from where she came as an exchange student.
PHOTO: Communication Service
Emma Waltersson is one of the international students who are in Tecnun this semester. Studies Mechanical Engineering and in Tecnun she is taking "a combination of courses", says this Swedish student, who confesses to feeling very happy at the School of Engineering at the moment.
- How were the first days at Tecnun?
The first few days in Tecnun They were intense but good, I was meeting a lot of new people and adapting to a new school with different ways of working compared to my home university. It's been great! San Sebastian is a wonderful city and the weather has been so good that I spend most of the time -after class-, on the beach.
- What differences do you see with your home universities?
The main difference with my home college is the size. The campus It's smaller and there are fewer people, but I like it a lot because it's more family-friendly. For the time being, I meeting Very comfortable in Tecnun, and I hope it stays that way. 
- What about new teammates?
My new classmates class They are very friendly and everyone is very helpful. And the same can be said of the teachers and all the staff; They are very attentive to us and that makes it much easier for us to adapt. 
- IsTecnun as you had imagined it?
I heard about Tecnun through a friend, so I already knew something about the School of Engineering before I came. And yes, it was as I thought. Very good and interesting classes. I'm really liking it so far. 
- What is your favorite thing at the moment?
For the time being attention to enjoy the sun to the fullest and I'm going to surf, because that was one of the reasons that made me want to study in San Sebastian. In addition, the city is very beautiful and has the ideal size. It's made on a human scale. 
- What do you think of the security measures against Covid?
I think the measures are good and necessary. I prefer to have a high level of security measures than to have online classes. So there is no problem in following all the recommendations that are made to us and that are for our own good. You get used to following them and that's it.