News

LATEST NEWS AND EVENTS FROM THE SCHOOL OF ENGINEERING
ISS Group, Platinum Sponsor of this year's Employment Forum
Ricard Casas, director of ISS: "We are looking for people with a business interest and a humanistic vision of the company".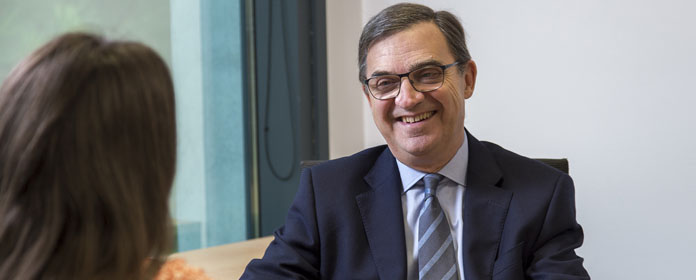 Ricard Casas, director of ISS.
PHOTO: Communication Service
The 27th edition of the Employment Forum will once again be a meeting point between a hundred companies from a wide range of sectors and more than 400 students in the final years of the different engineering degrees. The students will be looking for internship opportunities, final year projects and first jobs.
Every year, the External Relations service of Tecnun awards platinum, gold and silver categories to some of the participating companies, in order to highlight their presence among the student body. On this occasion, the ISS group has received the platinum category, and its director, Ricard Casas, assures that "they come to the Forum with enthusiasm, and with the desire to incorporate students from Tecnun who are interested in business management and have a humanistic vision when it comes to work". "We are not focusing so much on technical management, which is of course necessary, but we are looking for a more generalist profile, with an important humanistic conception," Casas continued.
ISS Iberia, present in Spain and Portugal for more than 25 years, is committed to the creation of more efficient work environments (workplace) with the mission of contributing to the well-being of its employees and adapting to their needs.
With a team of more than 35,000 employees, the company is today a leader in the integration of general services, offering catering, maintenance, auxiliary services, cleaning, gardening, security, Facility Management and IFS (Integrated Facility Services) to clients from different sectors.
ISS Iberia is part of the Danish multinational ISS Group, founded in 1901 in Denmark. The company, which has a presence in Europe, Asia, America and Australia, has been listed on the Danish stock exchange since March 2014, and currently has a workforce of more than 485,000 employees in 66 countries. In 2019, ISS Group has been distinguished for the seventh consecutive year by the International Association of Outsourcing Professionals (IAOP) as the best outsourcing company in the world.
Ricard Casas highlighted the ISS Global Management Trainee Programme, in which more than 70 young people participate each year at European level, and to which he encourages all the School's students to apply for selection. It is an intensive one-and-a-half year programme that aims to train and integrate talented young people into the company, giving them the opportunity to get to know all areas of the company first-hand. "It is very interesting because it offers them an international experience with other young people of their age, where every three months a workshop is organised in a different European capital, which complements their training in an excellent way", explained the director.
The director of External Relations, Javier Ganuza, assures that it is a satisfaction to have the support of companies such as ISS that collaborate with the economic support of the Employment Forum and at the same time are making themselves known among the students. "There are already several students who have joined the company in recent years and they are very happy with their professional experience there," said Ganuza.