News

LATEST NEWS AND EVENTS FROM THE SCHOOL OF ENGINEERING
Students from Tecnun stand on the podium at the 2018 CEU's.
Alfonso de Juana and Andoni Azurmendi won bronze in the badminton modality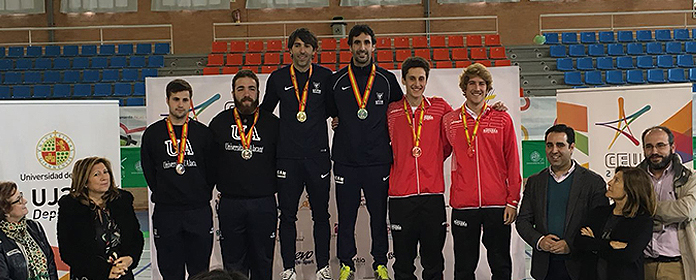 The students of Tecnun on the podium, in red on the right.
PHOTO: Courtesy
The committee Superior de Deportes, together with the Spanish universities, organizes the Spanish University Championships every year. The CEU, as they are known for short, have been organized in 2018 by the University of Jaén. And to that Andalusian province moved a few days ago the students of Tecnun Alfonso de Juana and Andoni Azurmendito participate in the badminton discipline . It was between April 4 and 6.
In the individual modality , Andoni Azurmendi won the first of his matches, but could not advance to the quarterfinals because he lost the next match in a "very tight match" in three sets, recalls Azurmendi himself from San Sebastian. 
In doubles, however, the tandem formed by Andoni and Alfonso managed to climb to the third step of the podium. "We came third after losing in the semifinals against the University of Alicante, in a match that we went from less to more," recall the students of Tecnun. "If we could have pressed a little more perhaps we could have forced a third set, because we finished the second with a final score of 19-21," they recall with a point of regret.
In any case, they are left with the experience and the satisfaction of having achieved at least one podium. "The truth is that it was a great surprise to get the bronze. We did not expect this third place," they admit. "We did a good championship and we were close to get into the final, so we take a very good taste in our mouths. The experience has been incredible. 
The only bad thing was the return trip. "We had to change trains in Madrid and we missed it. We arrived in Madrid Chamartin by AVE from Cordoba, and we had to catch a train to San Sebastian, but we only had 25 minutes to make the change. The AVE arrived late and we missed the other train. Because of this they rushed to the bus station to see if there was a bus to San Sebastian "to avoid having to stay overnight in Madrid". Finally, they got one leaving at 7 pm. They arrived in Donostia around 1 a.m., "but very happy because we brought a medal under our arms", they concluded smiling.